Teresa Holtom
Senior Lecturer
Textiles in Practice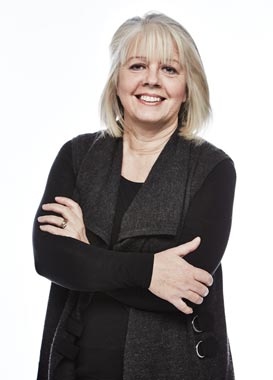 Teresa Holtom is a full time member of staff for the BA (Hons) undergraduate programme Textiles in Practice (TIP).

As a printed textile designer and senior lecturer at the Manchester School of Art. She brings to the programme a wealth of teaching and professional design experience.

Teresa studied printed textile design at Liverpool John Moores University gaining a first class Honours Degree.
After graduating in 1979 she worked for a highly successful Design and Colour Consultancy –Deryck Healey International, who specialised in all aspects of fashion, textiles and interiors for major clients in the UK, USA, Europe.

Between 1983-1987 she continued to work as a freelance designer and part time lecturer at Batley School of Art, Dewsbury College and Huddersfield University before becoming a full time Lecturer and later programme leader for the Surface Pattern Programme at Batley School of Art .

With over 30 years of freelance design practice experience, Teresa has produced both speculative and commissioned design collections for fashion and interior contexts both nationally and internationally and continues to work as a highly successful
freelance designer.

Teresa's current research interests involve exploring the potential of digital and craft technologies through material and print process exploration and the significance and value of historic textile archives as a resource to inform textile design teaching and contemporary design practice.

She is a member of the Crafts Research Group.