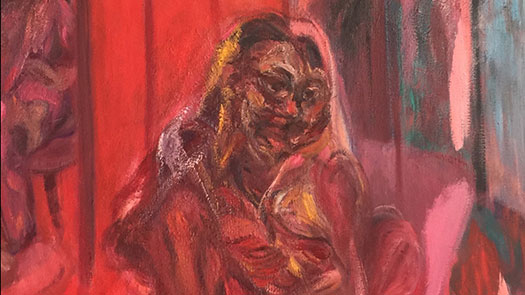 Talk #106
Jai Chuhan
Tuesday 7 June 2022, 5pm
Salutation Pub (upstairs)
Higher Chatham Street
Manchester
M15 6ED
Please register on Eventbrite if you wish to attend.
A video recording of this talk will be available from Friday 24 June at 11am.
Jai Chuhan uses vivid colour in expressionistic paintings that explore the female gaze in depictions of the body, seemingly confined and isolated in a room-like space, an arena for exploring psychological tensions in symbioses of male and female, home and 'unhome', subservience and dominance, in networks of power where expressions of sexuality by women have a sense of transgression. The large scale of many paintings creates a jolt to the eyes through the intense colour and physicality of paint, that both veil and reveal the figure, focussed or blurrily glimpsed. Inspired by her position as a British South Asian woman, her paintings of the nude body encompass the plurality of experiences within the contemporary transcultural.
Jai Chuhan is an Indian-born British artist and studied at the Slade School of Fine Art, UCL. Her paintings have been exhibited in solo and group exhibitions internationally including Sweden, Italy, China, Turkey and in the UK at venues including Tate Liverpool; Barbican, London; The Lowry, Salford; Ikon, Birmingham; Arnolfini, Bristol; Pitshanger Gallery, London; Watermans Art Centre, London; Liverpool Biennial; and HOME for Asia Triennial Manchester. Her paintings and drawings are held in public collections including Cartwright Hall, Bradford; Victoria Gallery & Museum, Liverpool; Arts Council Collection and Tate.
Image: J Chuhan 'Memories we don't remember' 2022 oil on canvas (detail)