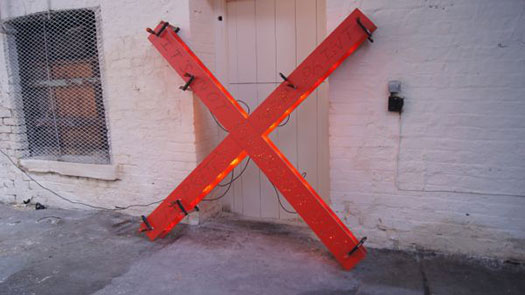 Unit X
Unit X brings together students from different disciplines to work on live project briefs created by a wide range of partner organisations working with our academic staff.
It equips students to work confidently and professionally, as they collaborate, experiment and realise creative responses to briefs.
Throughout the unit, students share, develop and acquire skills - an experience that enriches their learning experience and broadens their understanding of industry.
The unit culminates in the X Festival, a week of pop-up events and exhibitions that transforms spaces throughout the city into urban galleries and event spaces. This festival celebrates the outcomes of the Unit X project, created by some of Manchester's best up and coming artists, designers, filmmakers and photographers.
"Unit X teaches you how to be a better teamworker"
Kitty Jones, Three Dimensional Design
Creative Industries
We bring the best of Manchester's creative industries to work with our students including MIF, HOME, the BBC and Bruntwood. By experiencing how creativity works outside of the School, our students learn vital skills for their future careers.
Unit X provides diverse projects that reflect the distinctive, creative approaches our students undertake as they research, explore and develop creative outputs. From live, client-centred projects to placement options, students respond to a given brief that serves to reinforce a creative and professional approach.
A professional lecture programme also supports the unit, providing a broad context of practice.
"All partners have been hugely impressed with the diversity, quality and creativity of the work produced, and the innovative approach of the students.
It has been beneficial to hear new perspectives and fresh ideas. Venues have seen the work help to transform spaces, and attract new audiences and customers.
It has been particularly inspiring to see students develop during the course of the module. Unit X is a great opportunity to learn about practical and business issues whilst working together as cross-disciplinary team, and in partnership with others."
Hilary Sayers, Development Coordinator, Manchester City Council
X Festival
Monday 27 April
—

Friday 1 May 2020

The X Festival is a week of pop-up exhibitions and events, showcasing the work of some of the best up and coming artists, designers, filmmakers and photographers emerging in the city.

Venues across the city will be transformed into a series of urban galleries and event spaces by Manchester School of Art to celebrate the outcomes of this award-winning cross-disciplinary initiative.

Further details will be available soon.