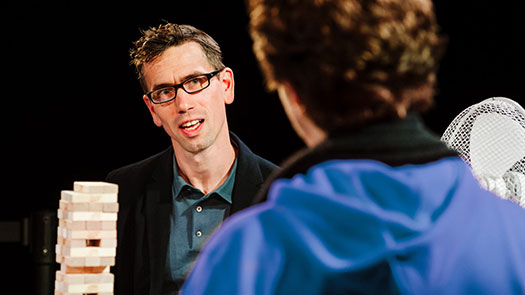 Talk #120
Daniel Bye
Tuesday 6 June 2023, 5pm
Salutation Pub (upstairs)
Higher Chatham Street
Manchester
M15 6ED
Please register on Eventbrite if you wish to attend.
A video recording of this talk will be available from 6 July.
Daniel Bye is a writer, director and theatremaker based in Lancaster. His award-winning, internationally touring solo shows include Going Viral, Arthur, The Price of Everything and Instructions for Border Crossing. Most recently he has been touring These Hills Are Ours with singer-songwriter Boff Whalley (Chumbawamba). Previously with Whalley he has created a series of large-scale site-specific choral installations, for spaces including Manchester Museum, Somerset House, Timber Festival and a cliffside on the East Durham coast. Directing includes work for Leeds Playhouse, Red Ladder and the Dukes, Lancaster. Writing includes work for Royal & Derngate, Polka, Northern Stage and the Egg. He teaches regularly at the universities of Manchester and Lancaster and is currently working on a new solo show, a version of Robin Hood, and a novel. He runs up mountains for fun.