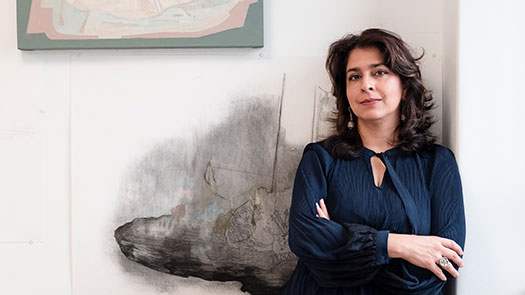 Talk #122
Naiza Khan
Tuesday 4 July 2023, 5.30pm
Salutation Pub (upstairs)
Higher Chatham Street
Manchester
M15 6ED
Please register on Eventbrite if you wish to attend.
A video recording of this talk will be available from 4 August.
Naiza Khan trained at the Ruskin School of Art, Oxford and completed her MA at the Centre for Research Architecture at Goldsmiths College in 2020.  An interdisciplinary artist, Khan has built her practice on a process of intricate archival documentation and map-based investigations. With ecological research at the centre of her intersecting artistic interests, Khan considers the ways in which geography materialises power while facilitating the collective remembrance of colonial histories. Currently, at the Sharjah Biennal 15, Khan presents two works that extend the boundaries between film and live performance: Mapping Water (2023) and a reading performance titled Set in a moment Yet still Moving. Both works critically examine the relationship between time, location, data and lived experience. The film is shot between her studio in London, the Mleiha Desert, Sharjah and Manora Island, Karachi.
Other recent projects include Watermark, at Meadow Arts, Worcester. An exhibition that explores water and flooding through a multi-site exhibition across the city; dedicated to those around the world who are affected by flooding, rising sea levels and loss of habitat. Naiza looks at how London is a monsoonal city. Khan will show large scale drawing works at the forthcoming Gwangju Biennale, soft and weak like water. These works talk about the cultural implications of the ocean and how this relates to histories of migration. The Biennale speaks of water's capacity to embrace contradictions and paradoxes, by thinking through the transformative and restorative potential of water as a metaphor, a force and a method. 
In 2019, Khan represented Pakistan at the 58th Venice Biennale with the project Manora Field Notes. She received the Prince Claus Award (2013) in recognition of her initiatives in the fields of art and culture. Selected group exhibitions include Monsoonal Multiplicities, London, 2021; The Sea is History, Museum of Cultural History, Oslo (2019); Kochi-Muziris Biennale, Kochi (2016); Naiza Khan:Karachi Elegies, Eli and Edythe Broad Art Museum, Michigan (2013).