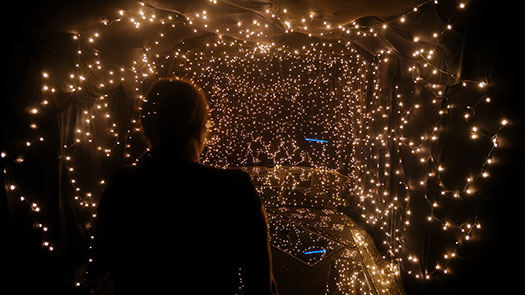 Talk #128
Adrienne Mackey
Tuesday 3 October 2023, 5.30pm
Salutation Pub (upstairs)
Higher Chatham Street
Manchester
M15 6ED
Please register on Eventbrite if you wish to attend.
A video recording of this talk will be available from 3 November.
Adrienne Mackey is a multidisciplinary artist who explores the potential of performance and play. With her company, Swim Pony, she's created works including SURVIVE! - a 22,000 sq-ft science installation exploring the universal scale; THE BALLAD OF JOE HILL, a musical exploring a famed labor icon at the historic Eastern State Penitentiary; WAR OF THE WORLDS, an immersive game/theater experience with Drexel's Entrepreneurial Game Studio; and THE END – a month-long mixed reality game exploring mortality. Most recently she's developed TRAILOFF – a mobile app embedding immersive audio stories by BIPOC authors onto nature trails and Aqua Marooned!, a wildlife card game. Mackey is also a classically trained soprano, former chemist, and teaches acting, directing and devising at the University of Washington in the US.