Monday 22

—

Tuesday 23 July 2013
Turing Machine Opera with decode/recode
6.15pm—8pm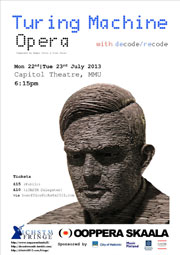 The UK première of the multimedia opera exploring the life and work of the iconic computer theorist Alan Turing, devised by Ooppera Skaala of Helsinki. The intimate and intense opera for two singers and one dancer weaves together soaring, emotionally charged vocal lines with atmospheric ambient soundscapes and sampled electronic rhythms, set off by stunning 3D graphics.
Before the performance, guests will be given an opportunity to take part in Decode/Recode, a collective media performance featuring interactive artworks, sound, lights, performers and VJs.
Tickets £15 (£10 for registered Congress delegates), and must be reserved in advance. Please contact boxoffice@ichstm2013.com with your name, contact details, and number of tickets required.
Further details at www.ichstm2013.com/public