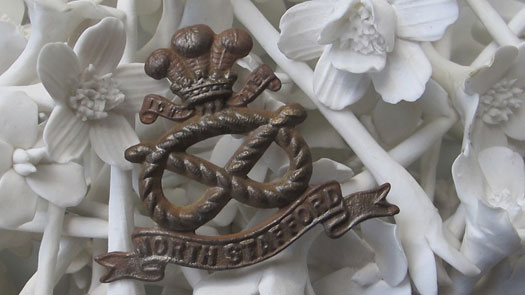 Thursday 5

—

Wednesday 11 November 2015
The Lost Boys
Remembering the boy soldiers of the First World War
Thursday 5 Nov
10am–6pm
Friday 6 Nov
10am–6pm (drinks reception 5pm–6pm. See Eventbrite for tickets)
Saturday 7 Nov
12 noon–4pm
Sunday 8 Nov
12 noon–4pm (Remembrance day event)
Mon 9 – Wed 11 Nov
10am–6pm
At the outbreak of World War 1, the legal age limit for armed service overseas in the British Army was 19 years, yet by the end of the war an estimated 250,000 underage soldiers between the ages of 14 and 18 had seen active service.
This exhibition will feature three elements of commemoration of young people and families affected by World War 1, using the medium of ceramic plates, flowers and models.
The first part of the exhibition will feature work in progress from a project working with young people in the Staffordshire area, exploring memory and commemoration in relation to the North Staffordshire Regiment and the experiences of underage soldiers in the First World War.
The second part of the exhibition will feature ceramics that commemorate the memories of people from the Manchester/North West area, looking at the wider issues of all the young people affected by World War 1, from young children left behind or bereaved to young protesters and pacifists who opposed the war.
Finally, the exhibition will feature original works by acclaimed ceramicist, project lead and curator of the exhibition, Professor Steve Dixon, whose work has led the way in re-figuring war commemoration in this medium, in terms of collective memory and public engagement.
Part of Humanities in Public, a research showcase organised by the Faculty of Humanities, Languages and Social Science at Manchester Metropolitan University.