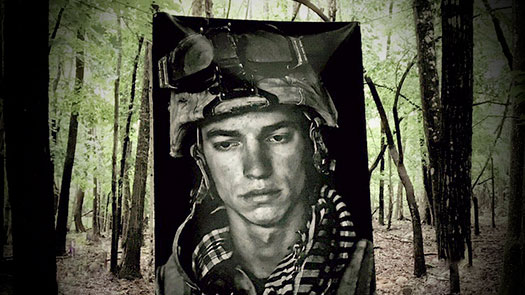 Wednesday 23 May 2018
War & Storytelling After 9/11: A Photojournalist's Perspective
A public lecture by Louie Palu
Wednesday 23 May 2018
5.30pm—8pm including screenings
Part of the Pictures of War: The Still Image in Conflict since 1945 Conference
"A new landscape has emerged challenging the manner in which I work as a war photographer and documentary filmmaker. The internet, cheap accessible digital technology and an evolving series of battlefields which have grown into a series of guerilla wars far more complex than the insurgencies in the 20th century comes with new challenges for journalists who cover conflict. My goal in creating and producing my work is to provide a point of dialogue on issues surrounding war, human rights and social political issues. I consider myself an artist as well as a photojournalist depending on what I am working on, for what purpose and where and how I am sharing it with viewers. The advent of the ability for most people on every continent to make photographs and videos is a gift in terms of both creativity and communication. However, it also comes with consequences for the photojournalists and filmmakers who work in this new world order and try to cover war. Many journalists like myself face daily controls by governments and in some cases the use of physical harm utilized to block and attempt to control the way we work impacting how you see current politics, wars, criminals and combatants via our work. After reflecting on the past ten years of covering multiple wars, one conclusion I have come to is that the greatest threat to our freedom to think about and to interpret world events is what we are not seeing. With this in mind I would like to share some of my experiences with you in this talk."
— Louie Palu
This public lecture has been organised as part of the Pictures of War: The Still Image in Conflict since 1945 conference at Manchester Metropolitan University.
All welcome.
About Louie Palu
Louie Palu is a documentary photographer and filmmaker whose work has examined social political issues such as human rights, poverty and war for 26-years. He is a Guggenheim Foundation and Harry Ransom Center Research Fellow at the University of Texas at Austin. He has covered conflict in Afghanistan, Pakistan, Mexico and Ukraine. His work is held in numerous collections including the National Gallery of Art, Museum of Fine Arts Houston and Museum of Fine Arts Boston. His work has been featured on the BBC, Al Jazeera, Der Spiegel, El Pais, La Republica and The New York Times. His photographs and films have been exhibited in numerous museums and festivals internationally including at the Smithsonian National Portrait Gallery and Munich Documentary Film Festival.
More on his work can be seen here www.louiepalu.com
Image: ©Louie Palu, U.S. Marine Joshua Wycka age 21who is part of Alpha Company of the 24th Marine Expeditionary Unit (MEU) Battle Landing Team (BLT) 1/6, after a patrol in Garmsir District, Helmand Province, Afghanistan at Forward Operating Base Apache North.