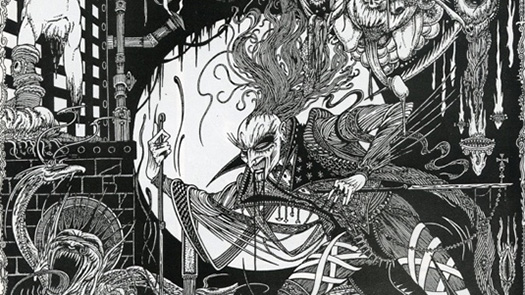 Thursday 28 June

—

Friday 20 July 2018
Outsiders and Insiders
Savoy through the lens of the Michael Butterworth archive
Curated by David Brittain.
The archive of the Manchester-based author, poet and editor, Michael Butterworth has been acquired recently by the MMU Special Collections. The exhibition (until July 20 on two floors) consists of a tiny proportion of the artefacts and documents that it contains. It aims to provide a 'taster' of this remarkable resource through selected objects in the two thematic areas: 'Savoy and the image' and 'Savoy's international network'.
Much of Butterworth's output was produced under the rubric of Savoy, the Manchester-based publisher which he co-founded in 1976 with David Britton. The archive has great value as a potential source of new knowledge about Savoy, and it is significant as a portal to Manchester's little known underground culture of literature and images.
Savoy has been called a 'project' but it was really a project of projects that expressed an attitude of dissent and subversion throughout the 1970s till the start of the 2000s and beyond. Savoy's output encompassed fiction, graphic novels, magazines, fanzines and comics; they packaged books for other publishers about figures as diverse as Bernard Manning and Bowie, and championed marginal producers in print and recorded music, such as P.J. Proby and Fenella Fielding. Savoy's book shops foreshadowed today's specialist websites as outlets for their own material and the transgressive productions of others – from H.P. Lovecraft and William Burroughs, The Cramps and Captain Beefheart, to the fantastic graphics of Roger Dean. Savoy's spirited advocacy of free speech courted confrontation, bankruptcy and imprisonment, yet it represented a beacon for peers and core supporters - including Michael Moorcock, the doyen of counter - culture authors.
David Brittain is a Senior Lecturer at Manchester School of Art, specialising in magazines and image culture. Clara Casian is a Manchester-based filmmaker and an alumnus of Manchester School of Art.
Illustration by John Coulthart