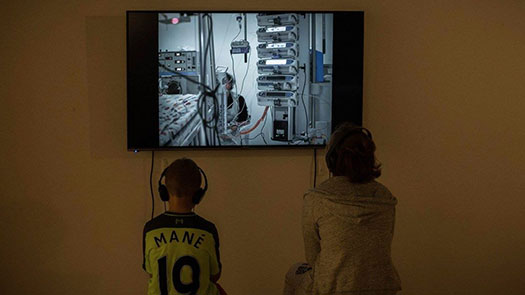 Tuesday 23 January 2018
The Harmonic Oscillator and Critical Care
With Vic McEwan and Clive Parkinson
10.15am—12.30pm
A rare opportunity to hear the Australian contemporary artist Vic McEwan discussing his collaboration with director of Arts for Health, Clive Parkinson. Over the last three years, McEwan has spent time visiting the Royal Liverpool Children's Hospital, Alder Hey where he has been given unprecedented access to much of the hospital in an exploration of its sonic environment producing a body of work collectively called The Harmonic Oscillator. Parkinson has quietly observed McEwan throughout this project, writing a reflective account on the nature of artists working in places of trauma, and an unfolding story of some of the more profound moments in arts and health. His work, Critical Care offers a deeper sense of community, and a richer narrative of the place of culture and the arts within a health context. This work was launched at The Big Anxiety Festival in Sydney this October. Festival Director Professor Jill Bennett describes this collaborative research as 'one of those field-defining projects...in a class of its own'.
This free public event is a mixture of performance and presentation and the UK launch of Critical Care alongside the Harmonic Oscillator EP with 4 compositions created from sounds recorded at Alder Hey. There are very limited seats available for this event, and please note that this presentation discusses some sensitive issues around illness and trauma, and the families of those affected by the work will be in attendance.
Further details and tickets are available on EventBrite.