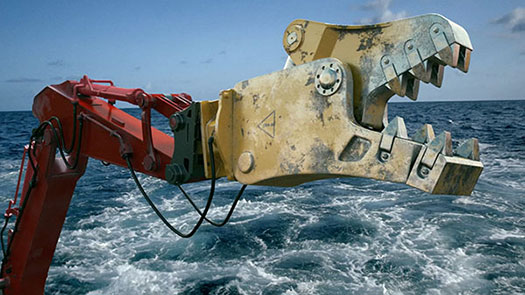 Thursday 24 May 2018
The Bureaucracy of Angels
Keynote lecture by Oliver Chanarin, from artist duo Broomberg and Chanarin
Thursday 24 May 2018
Keynote Lecture: The Bureaucracy of Angels
5.30pm—7.30pm
Part of the Pictures of War: The Still Image in Conflict since 1945 Conference
Artist Oliver Chanarin presents works from his collaborative practice with Adam Broomberg, including a screening of Chanarin and Broomberg's new short film, The Bureaucracy of Angels (2017), which was commissioned for the London Underground. The Bureaucracy of Angels records the demolition of 100 migrant boats in Sicily in the winter of 2016. These boats arrived laden with refugees from North Africa, and while their human cargo were either sent home or absorbed into the asylum system, the boats themselves were never returned to their owners and lay beached on the concrete forecourt of Porto Pozallo in Sicily. Broomberg (British, born South Africa 1970) and Chanarin (British, born 1971) have worked in a number of war-torn countries and areas of conflict, where their work has focused on themes relating to migration, movement. The artists visited Sicily several times, where they were able to explore the area where migrants arrive from perilous journeys across the Mediterranean. They witnessed rescue missions conducted by the Migrant Offshore Aid Station Foundation in the middle of the ocean and filmed the destruction of the boats left to decay in a shipping graveyard in Porto Pozallo, Sicily. The presentation will also highlight several other key projects by Broomberg and Chanarin that consider the role of image production in relation to acts of violence.
About Oliver Chanarin
Adam Broomberg (born 1970, Johannesburg, South Africa) and Oliver Chanarin (born 1971, London, UK) are artists living and working between London and Berlin. They are professors of photography at the Hochschule für bildende Künste (HFBK) in Hamburg, Germany. Together they have had numerous solo exhibitions including the Hasselblad Center (2017), Centre for Contemporary Art Ujazdowski Castle, Warsaw (2015); Jumex Foundation, Mexico City (2014); Mostyn, Llandudno, UK (2014); Townhouse, Cairo (2010) and the Stedelijk Museum, Amsterdam (2006). Their participation in international group shows includes the Yokohama Trienniale (2017), Documenta, Kassel (2017), The British Art Show 8 (2015-2017), Conflict, Time, Photography at Tate Modern, London and Museum Folkwang, Essen (2015); Shanghai Biennale (2014); Museum of Modern Art, New York (2014); Tate Britain (2014), Mathaf Arab Museum of Modern Art, Doha (2013); Gwanju Biennale (2012) and the KW Institute for Contemporary Art, Berlin (2011). Their work is held in major public and private collections including Tate, MoMA, Yale, Stedelijk, the V&A, the Art Gallery of Ontario, Cleveland Museum of Art, and Baltimore Museum of Art. Major awards include the ICP Infinity Award (2014) for Holy Bible, and the Deutsche Börse Photography Prize (2013) for War Primer 2.
For more information see www.broombergchanarin.com