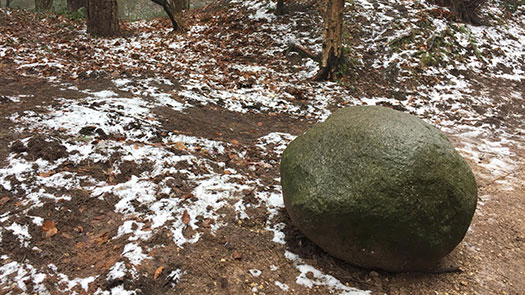 Monday 29 October 2018
Professor Tim Brennan
Inaugural Lectures Series
5.30pm—7.30pm
over time, of space

looking at an art practice

in, and out of place
Tim Brennan (b.1966) is an independent artist. His concerns lie in the area of art's politicized relationship to space, place, writing, image making, archives, performance and artist editions.
Brennan's doctorate focused on the methodology he developed surrounding the use of the guided walk form to investigate our relations to place and history in new and imaginative ways.
Brennan has exhibited internationally over the last 30 years, including the 50th and 54th Venice Biennales, Interzone Performance Biennale in Quebec, Canada and The British Museum, London. He has published extensively with over 15 monograph publications and into multiple academic journals. In 2007 Brennan was shortlisted for the UK's Northern Arts Prize.
Tim Brennan's recent exhibition, August 2018 at Art Rooms, ARUCAD Art Space in Nicosia forms an ongoing retrospective survey of new works made since 2015.
Brennan's contribution to the landscape of art education is instrumental. In the 1990's he established BA Visual Performance at the influential English art college at Dartington and then MA Curating at Goldsmiths, London. Since 2000, he has developed, taught and led new programmes as a Lecturer, Head of Department, and Associate Dean at the University of Sunderland and as Professor of Art and Director of Pre-Doctoral Studies at the College of Creative Arts, Massey University, New Zealand.
Tim Brennan is Professor of Art and Head of the Department of Art at Manchester School of Art, Manchester Metroploitan University, UK.
The introducer to this lecture is Professor Richard Greene
Richard Greene is Pro-Vice-Chancellor for Research and Knowledge Exchange at Manchester Metropolitan University. Professor Greene graduated in medicine at Charing Cross and Westminster Medical School in 1991 having obtained a BSc and a PhD from the same institution in 1986 and 1989 respectively. Professor Greene's academic interests are in the biology of psychiatric diseases and human neuroanatomy - which he teaches using novel approaches including his own BrainTower® modelling system. Professor Greene is a Fellow of the Higher Education Academy and a Fellow of the Anatomical Society. Outside of work, he is a lifelong supporter of Rugby League, a keen photographer and a frustrated furniture builder and model engineer.
The respondent to this lecture is Professor Jane Rendell.
Jane Rendell is Professor of Architecture and Art at the Bartlett School of Architecture, UCL, where she is Director of History & Theory. Jane co-initiated and teaches on the new MA Situated Practice. She supervises PhDs in architecture, art, urbanism and experimental writing. Working with Dr David Roberts, Bartlett Ethics Fellow, she leads the Bartlett's Ethics Commission; and, with Research Associate, Dr Yael Padan, she is leading the Ethics Work Package for KNOW (Knowledge in Action for Urban Equality). Jane's research crosses architecture, art, feminism, history and psychoanalysis. She has introduced concepts of 'critical spatial practice' and 'site-writing' through her authored books: The Architecture of Psychoanalysis (2017), Silver (2016), Site-Writing (2010), Art and Architecture (2006), and The Pursuit of Pleasure (2002). Her co-edited collections include Reactivating the Social Condenser (2017), Critical Architecture (2007), Spatial Imagination (2005), The Unknown City (2001), Intersections (2000), Gender, Space, Architecture (1999) and Strangely Familiar (1995). www.janerendell.co.uk
Tickets Free – available on Eventbrite
This event will consist of a wine reception from 5.30pm – 6pm and the lecture will start at 6pm.