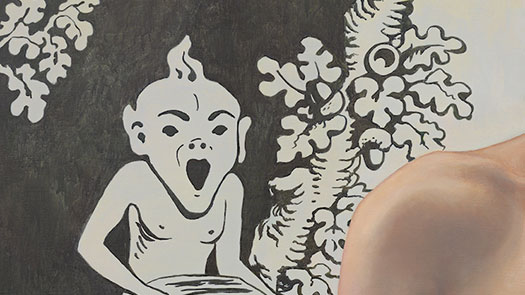 Thursday 22 March 2018
Writing Painting/ Painting Writing
A symposium exploring aspects of the relationship between painting and writing
1.30pm—5.30pm
Manchester School of Art and Painting Manchester present Writing Painting/Painting Writing, an afternoon of presentations and panel discussions that explore connections between the two disciplines. It provides the opportunity to hear from art critic for The Nation and co-editor of international reviews for ArtForum, Barry Schwabsky; artist Allison Katz, whose work has been shown at Tate St Ives and featured on the cover of Frieze and CURA magazines, and Andrew Hunt who has recently joined Manchester School of Art as a Professor of Fine Art and Curating.
13.30 – 14.00 Coffee and registration
14.00 – 15.30 Presentations
15.30 – 16.30 Panel discussion and questions
16.30 – 17.30 Reception

Tickets
£15 available from the Online Store
A limited number of student bursaries are available for this event, please contact Magnus Quaife for further information.
Panel Profiles
Barry Schwabsky is art critic for The Nation and co-editor of international reviews for Artforum. He also writes regularly for such publications as New Left Review and the London Review of Books. He has taught at Maryland Institute College of Art, the School of the Art Institute of Chicago, Yale University, and Goldsmiths College, among others. His recent books include a collection of critical essays on art writers and art writing, Words for Art: Criticism, History, Theory, Practice (Sternberg Press, Berlin, 2013), and a collection of poems, Trembling Hand Equilibrium (Black Square Editions, New York, 2015). The Perpetual Guest: Art in the Unfinished Present (Verso, London and New York, 2016) is a selection of Schwabsky's art criticism from The Nation and his new book, Heretics of Language (Black Square Editions, New York, 2017) is mainly literary in its concerns. He is the editor of a new series of monographs on contemporary painters for Lund Humphries, London, for which he is presently writing a volume on the work of Gillian Carnegie.
Allison Katz (b. Montreal, Canada, currently based in London) has been the subject of institutional exhibitions at Kunstverein Freiburg in Germany (2015) and Oakville Galleries, Canada (2018), traveling in May 2018 to the MIT List Visual Arts Centre, Boston, USA. Her first monographic catalogue will be published in December 2018. Katz spent the summer of 2017 in residence at the studio of Sol LeWitt in Spoleto, Italy. Her work has been included in group exhibitions at Tate St Ives, UK (2017); ICA Studio London (2015), South London Gallery, UK (2014); and Sculpture Center, USA (2014). In addition, her work has been shown in collaborations with DAS INSTITUT at the Serpentine Gallery, UK (2016) and with Fredrik Vaerslev at Bergen Kunsthall, NO and Le Consortium, FR (2016-2017). Her work has been featured on the cover of Frieze, CURA and Metropolis M magazines, in addition to articles and interviews in Art in America, The White Review, Border Crossings and BOMB. She has published texts for or with artists including Kerstin Brätsch, Sanya Kantarovsky and Charline von Heyl. Since 2013 she has variously been a tutor or visiting artist at the Slade, Goldsmiths, RCA, and the Royal Academy.
Andrew Hunt is a curator and writer based in London and Manchester, and is currently Professor of Fine Art and Curating at Manchester Metropolitan University. Between 2016 and 2017 he was Research Fellow at Kingston University and during the same period founded and directed the contemporary art festival Reading International. From 2008 to 2014 he was Director of Focal Point Gallery (FPG) in Southend-on-Sea, where he was responsible for developing the organisation's acclaimed exhibitions programme and publishing activities. In 2012 he was a member of the Turner Prize jury. He has contributed to magazines and journals such as Art Monthly, Domus, frieze, Mousse Magazine, TATE ETC. and Picpus, and is founding editor of the Slimvolume imprint, which to date has published editions and books by over 250 artists. Recent publications include Jeffrey Dennis: Ringbinder (2017), Scott King: Public Art, Paul Buck: Disappearing Curtains and Cally Spooner: Scripts (all 2016).