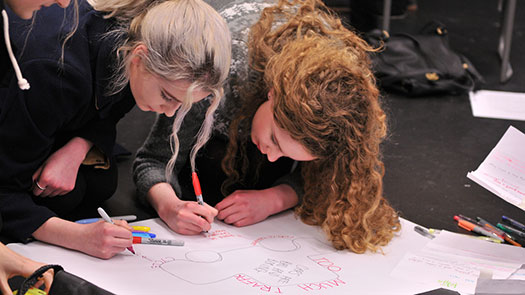 Thursday 7 February 2019
Creative Futures
An event for Pupils, Parents, Teachers, Heads and Governors
5.45pm—9pm
An event for Teachers, Parents and Pupils to find out more about the Creative Careers sector and how studying creative subjects can give you access to a broad range of industries and exciting career opportunities.
Find out what it means to study art, design, media and architecture subjects at university, and look into what career prospects these subjects offer young people. The event offers visitors the chance to engage with School of Art staff and students through talks, tours, creative demonstrations, and a panel discussion with open floor question time.
Who is it for?
—College and Sixth Form students
—Pupils about to take options at year 9 and year 11
—Parents and pupils who are concerned how subject option choices will provide opportunities in the future
—Teachers and Educators interested in keeping up to date with Creative education at HE
Booking
This is a FREE event. Please register online.
Please note
Creative Futures is not an open day. If you are interested in attending an Man Met Open Day to learn about the varied courses we offer, you can find further details here.
This event is an opportunity to give confidence to pupils and parents when making subject specific decisions at options points within education. We will offer insight into the opportunities available as a student at Man Met Uni, careers in the creative industries and future career prospects post studying a creative course at Higher Education.
This event is also relevant to teachers, governors and heads who wish to gain understanding about the landscape of Creative education at HE and how to support their pupils to access a creative future.