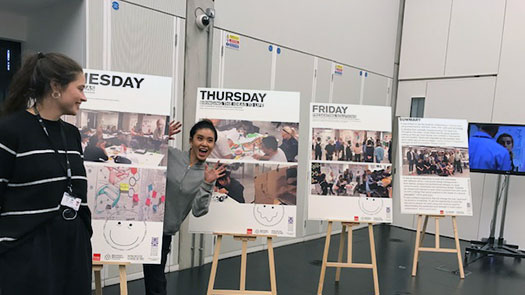 Friday 6 December 2019
GLAD 2019
Art & Design Education: Where do we go from here?
Manchester School of Art hosts the 22nd Group for Learning in Art & Design (GLAD) Conference on Friday 6 December 2019 in the Benzie Building.
The theme of the Conference is "Art & Design Education: Where Do We Go From Here?" and includes strands on tranformational technologies, valuing creativity and new models for today's Art Schools.
Maybe now is a good time to be a time traveller in higher education. REF, TEF; LEO, GO; Declining applicants, Rising demographic; Augar, Fees; Employability, Enterprise; Extinction or Rebellion? Oh, to be able to travel to another place, another time…
Look out of the space capsule… It's the UK, and it's 2031. 12 years to oblivion, or another 12 years to Brexit? Will there still be creative teenagers in schools eager to study with us? Will the creative industries still be looking to us to promote the latest talent? What new technologies might have replaced us in our studios and lecture halls? It's art school, Jim, but not as we know it…
At a time of unprecedented change, the annual GLAD conference is one thing you can rely on, aiming to steer a clear path through all the chaos and the negativity. Curriculum review; Design for sustainability education; Alternative models of learning; Transformational technologies. These are just a few of the critical issues to be visited and debated at this year's conference.
Register now at www.kxregistration.mmu.ac.uk/GLAD2019