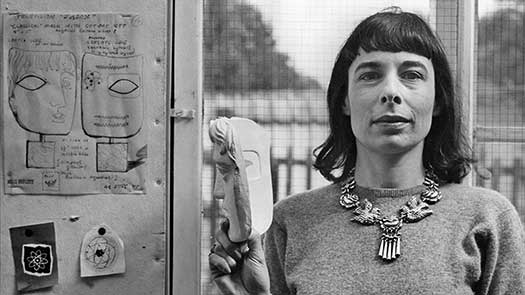 Monday 22 November

—

Friday 10 December 2021
Mitzi Cunliffe
An American in Manchester
Open to the Public
Monday to Friday
12 noonó6pm
Mitzi Cunliffe: An American in Manchester focuses on the most productive years of her career when she when she lived in Manchester and re-evaluates her contribution to public art in post-war Britain.
The exhibition will focus on her local contributions to public art in Manchester as well as her significant commissions that helped to establish her artistic reputation, including her iconic design of the BAFTA mask, which she designed in her Didsbury studio in 1955.
The exhibition has been curated by Professor Ann Sumner, Visiting Professor at Manchester School of Art, and Zoe Watson, Curator at the Holden Gallery, and will be on display at the Grosvenor Gallery from November 22 to December 10, 2021.
About Mitzi Cunliffe
American born sculptor Mitzi Cunliffe (1918-2006) arrived in Manchester in 1949 from America, having already established her artistic reputation with two solo exhibitions in New York and with one significant public art commission. She came over with her new husband Marcus Cunliffe, a British academic who was taking up a position at the University of Manchester. In June 1952 they moved to Cranmer Road in Didsbury where Cunliffe established her famous garage studio, creating many of her significant sculptures there. She also pursued a broadcasting career and it was through her television work that she gained the commission to create the BAFTA mask which has so shaped her legacy.