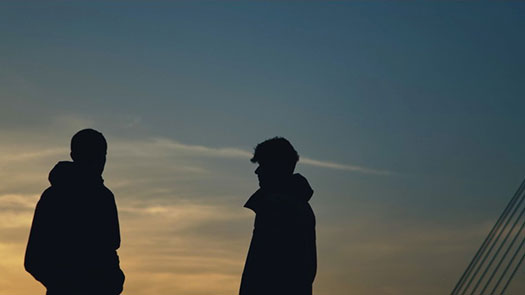 Friday 18 June 2021
The Chaos Collective Filmmaking Showcase
6pm—8pm
Chaos Collective proudly presents the Manchester School of Art Filmmaking Graduate Showcase. The event celebrates the work and resilience of graduating students despite a challenging year, presenting 11 short films ranging from comedy and drama, to romance and thriller. Select films are also followed by a short Q&A with the filmmakers themselves. So, sit back, relax, and roll the film!
This showcase was created by:
Sam Robson – Presenter
Lauren McCaughey, Joe Phenix and Sam Robson – Producers
Jack Birchall and Calum MacIntyre – Camera Operators
Calum MacIntyre – Sound Recordist
Joe Phenix – Editor
This programme will be available to watch from Friday 18th June 6pm until Friday 25th 6pm.
Running Time: 2 hours 11 minutes
Language: English
Rating: 15
All films and interviews shown were recorded in line with COVID-19 video production regulations.
Programme
Brie (dir. Eleanor Roberts) – 12 mins 20 secs
A story of friendship, love, and the hardships along the way.
Q&A after viewing.
Kady Phan (dir. Caitlin MacIntyre) – 7 mins
Follows a social media influencer as her relationships to those closest to her slowly decay.
2 Sisters, 1 Bench (dir. Lauren McCaughey) – 8 mins 3 secs
Two sisters' incredibly close bond is tested by a burger, chips and a confession.
Q&A after viewing.
Girls (dir. Georgina Hestletine) – 5 mins 59 secs
Two friends take a stand against the patriarchy.
Divided Streams (dir. Sam Robson) – 8 mins 29 secs
A young man is visited by versions of his past.
Q&A after viewing.
Calling All Artists (dir. Sammie Norman) – 9 mins 57 secs
A documentary exploring the effects of COVID-19 in the music industry.
I Love You, Julie (dir. Emma Marjan) – 6 mins 40 secs
A film of toasties, birds, and birdwatching.
Q&A after viewing.
Voicemail (dir. Connor Andrew) – 7 mins 15 secs
A young man reflects on his relationship with his brother.
The Good Wives Guide (dir. Max Cole) – 5 mins 5 secs
A disgruntled housewife finds a 1950s guide on how to keep her husband happy.
Q&A after viewing.
The Wright Way (dir. Georgia Newman) – 10 mins 9 secs
A film about trying to fill the void of seasonal depression.
Black Sheep (dir. Rowan Gill) – 8 min 37 sec
A young woman's fashion choices lead to an unlikely conversation.
Q&A after viewing.
ANASTASIA_01 (dir. Alexey Golenkov) – 10 min 23 sec
Explores the consequences of surveillance in the modern age.