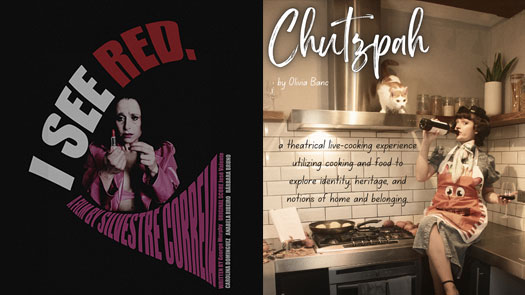 Tuesday 5

—

Wednesday 6 September 2023
MST minus zero
Double Bill: Chutzpah and I See Red
Tuesday 5 September
Chutzpah – 7pm
I See Red – 8.30pm
Wednesday 6 September
Chutzpah – 7pm
I See Red – 8.30pm
Manchester School of Theatre (MST) invites you to a double bill of cutting-edge performance practice from our MFA Contemporary Performance students – class of 2023! This year, MST minus zero will premiere two original works from the theatre makers of the future, at the final stage of their studies here at the prestigious Manchester School of Art, ready to launch their professional careers in the performance industry.
There will be two shows each evening (Chutzpah and I See Red) which you can order free tickets for individually on our Fatsoma page. You can also purchase pre-ordered drinks along with your free tickets for each show.
Chutzpah
No matter the culture, the kitchen is the heart of any home. Come gather 'round the table for a truly unique dinner party full of stories, questions, laughs, and maybe even some dinner. In a fake kitchen in a real theatre, we will explore how home is more than a house.
Chutzpah is a theatrical live-cooking experience utilizing cooking and food to explore personal identity, heritage, and notions of home and belonging.
Chutzpah will be performed in GE 1.04 both evenings at 7pm – 8:15pm and is being performed by Olivia Banc.
Please see event information on the Fatsoma webpage for allergen information.
Tickets for Chutzpah on the 5th September.
Tickets for Chutzpah on the 6th September.
I See Red
In a secret place, there exists Wendy. Restless and with no grand objective, she dances in fear. The colour red haunts her, obfuscating her reality in a sad shade of pink. A macabre perception of femininity composed by the troubled imagination of its director, who has moulded his transgender experience into a semi-autobiographical absurdist horror, which dissects his experience of gender - both physically and mentally.
I See Red will be performed in GE GF17 (Main Theatre) both evenings at 8:30pm – 9:30pm and is being performed by Silvestre Correia, with music by José Valente.
Tickets for I See Red on the 5th September.