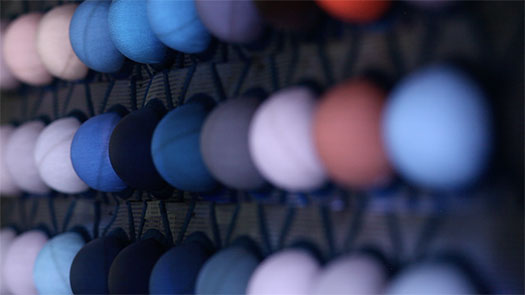 Tuesday 17

—

Wednesday 18 October 2023
Textile and Place Conference 2023
Tuesday 17 October 2023 (09:30—17:30)
Wednesday 18 October 2023 (09:30—12:30)
The Textile and Place conference explores how textiles engage with contemporary societal and environmental challenges whilst drawing on our histories and traditions. Hosted by Manchester School of Art and in partnership with the British Textile Biennial, the 2023 conference builds upon the debates of Textile and Place conferences 2018 and 2021, which acknowledge the importance of the local discourse of textiles in the North West of England and its global connections. This year the conference will present a programme of key notes, panel discussions, films and exhibitions from international and local contributors.

Textiles is a key discipline at Manchester School of Art with roots in the design training for the city's cotton manufacturing industry. Likewise, the British Textile Biennial 2023 programme is presented against the backdrop of the historic industrial infrastructure in Pennine Lancashire and traces the routes of fibres and fabrics across continents and centuries to and from the north of England in a series of commissions and exhibitions. Through this partnership, the Textile and Place conference will present three thematic sessions:
— Regenerative Acts: exploring sustainable relationships between the land, the people who live on it and the textiles that come out of it.
— Time, Space and Non-Places: discussing textile as future orientated, how materiality can be experienced through digital and non-physical realms.
— Collaboration in Conversation: focusing on collaborative and community forms of making.
The conference will question the regenerative potential of textiles as both a material and practice, exploring how textiles are taken from the ground and how they are returned to it. Through presentations and panel discussions we will explore how we can learn from our traditions to reimagine our future and question how textiles can act as a medium for challenging exploitative nostalgic narratives and contribute to a more resilient culture. It will then explore textile as an expanded field to consider how it describes and maps specific places but also connects with broader notions of space that we inhabit through digital and non-places.
On Wednesday 18th October, the conference will reflect upon forms of leadership found within collaborative forms of making as we move towards the opening of the ELIA conference at the School of Art on the Wednesday afternoon. Keynote and panel discussions in the morning will explore how textiles can leverage the power of indigenous heritage and use narrative making as a tool for social change. Through a series of in-conversations we will explore how textiles enable connections through community-based and collaborative practices.
Confirmed Keynote speakers
Dr Christine Checinska
Christine Checinska is the V&A's inaugural Senior Curator of African and African Diaspora Fashion and Lead Curator of the Africa Fashion exhibition, 2nd July 2022 – 16th April 2023. Prior to joining the V&A, Christine worked as a womenswear designer, academic, artist and curator. Her creative practice and research explore the relationship between fashion, culture and race. Christine's recent exhibitions include an intervention for Makers Eye: Stories of Craft, July-October 2021, Crafts Council Gallery, and Folded Life February 2021, Johanne Jacobs Museum, Zurich, Switzerland. Her recent publications include 'Re-Fashioning African Diasporic Masculinities' in Fashion and Postcolonial Critique, Elke Gaugele and Monica Titton (eds.), 2019. In 2016 she delivered the TedxTalk Disobedient Dress: Fashion as Everyday Activism. In industry for over thirty years, Christine has created womenswear collections for iconic British brands such as Margaret Howell, where she was a Senior Designer, during the late 1990s.
Dr Elaine Igoe
Elaine Igoe's academic work is internationally influential in expanding critical knowledge and understandings of textile design practice and thinking. She trained at Loughborough University in Multi Media Textile Design, then at Masters level in Textiles for Fashion at Central Saint Martins, followed by freelance design and styling work and completed her PhD in textile design theory at the Royal College of Art (RCA) in 2013. An experienced academic, she has taught and external examined at undergraduate, postgraduate and doctoral level across a number of institutions in the UK and internationally. Elaine is currently Senior Lecturer and Year 3 Lead for BA (Hons) Textile Design at Chelsea College of Arts, University of the Arts London and Director or Postgraduate Research for the School of Art, Design and Performance at the University of Portsmouth, UK. Elaine has written and edited several book chapters, papers and special issues including Textile Design Theory in the Making and the 'Soft Systems' Special Issue for the Journal of Textile Design Research and Practice for which she also serves as an editorial advisory board member. In September 2023, Elaine will co-chair the first Doctoral Consortium of the Textile Intersections conference and is a steering group member for the newly founded Design Research Society Special Interest Group in Interdisciplinary Textiles.
Amneh Shaikh-Farooqui
Amneh Shaikh-Farooqui is a development practitioner, livelihoods & value chain specialist with deep interest in arts and culture-based solutions to disenfranchisement. Amneh leverages power of indigenous heritage, narrative making as a tool for social change and has been affiliated with the not-for-profit sector in Pakistan for 18 years with experience in gender mainstreaming, economic empowerment and environmental initiatives. Her body of work lies at the intersection of social justice, gender equality, sustainability, decolonization and fashion. She is the Lead Curator of the Women of the World festivals in Pakistan since they started in 2016 (wowvirtual.pk) and Founder/CEO of Polly and Other Stories, an artisan first marketplace for craft and creative makers in Pakistan. Amneh is also an Acumen and Miller Center Social Enterprise fellow.
Exhibition
The opening of Growing House exhibition will accompany the conference.
The context and backdrop for all this discussion is Manchester's and Lancashire's rich textile histories as well as today's challenges, where textiles not only record the past but can shape our future.
Registration
Please book on www.fatsoma.com/e/2c919wc9/textile-place-conference-2023
Note that this is an in person conference, we have no plans to live stream the presentations.
Enquiries
Contact Gemma Potter at g.latham@mmu.ac.uk
Header image credit: 'Colour in Space' by Kate Egan.