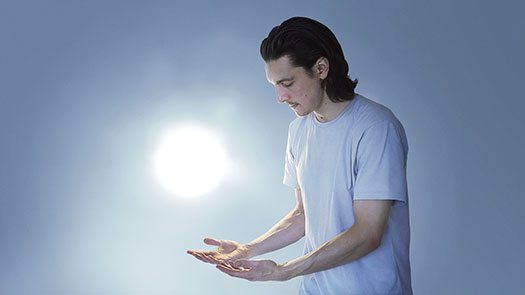 Thursday 26 January 2023
White Sun
Will Dickie
7pm
A lo-fi solo symphony of words and movement. Conjuring the ghosts of the men who have dominated the stage before him, Will takes us on a journey — navigating the tensions of inheritance, privilege, and addiction.
Personal and political. Unsettling and humorous.
What do you see when you look at Will?
Set against a backdrop of a nation that continues to bask in the light of its colonial legacy, hooked on profits despite the costs, White Sun collides with the past in the here and now of a human nervous system.
Content Warning: Addresses themes of addiction and the social construct of race; makes direct references to the transatlantic slave trade, and gives descriptions of addictive behaviours.
Supported by Tramway. Supported using public funding by the National Lottery through Arts Council England. Originally commissioned by hÅb & Contact for Works Ahead, with additional support from Camden People's Theatre.
Photo credit: Diego Ferrari
Presented as part of the Future Flares Festival