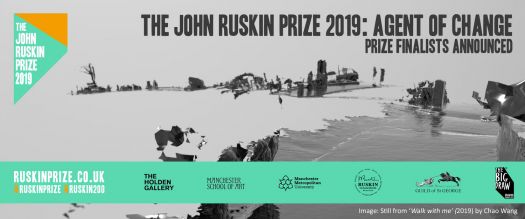 John Ruskin Prize 2019 shortlist announced ahead of University exhibitions
4 June 2019
Festival of Ruskin in Manchester events programme also revealed
The shortlist has been announced for The John Ruskin Prize 2019 – hosted at Manchester Metropolitan University.
Responding to this year's prize theme 'Agent of Change', 41 artists and designers working across a broad range of disciplines have been selected from a record 1,260 entries.
Inaugurated in 2012, The John Ruskin Prize is the fastest growing multi-disciplinary art prize in the UK. It is organised by visual literacy charity The Big Draw alongside founder and core supporter, Ruskin's own charity The Guild of St George.
Bicentenary
The 2019 prize also coincides with the bicentenary of the renowned artist, writer and social reformer's birth, and forms part of the Festival of Ruskin in Manchester, which is directed by Manchester Metropolitan lecturer and Ruskin expert Dr Rachel Dickinson. For more information and a full list of events, visit the Festival of Ruskin in Manchester website.
From the 2019 shortlist, three winners will be announced and awarded their share of the £5,000 prize fund at the Private View and prize-giving ceremony, held at Manchester Metropolitan's Holden Gallery on July 11. An exhibition of the shortlisted work, co-curated by Holden Gallery curator Zoe Watson, is then open until August 24.
This year's expert judging panel includes Dr Dickinson, Director of Education at The Guild of St George and Principal Lecturer in English at Manchester Metropolitan, alongside Professor Tim Brennan, Head of the Department of Art, and other well-known artists.
Rachel Price, the prize's managing-director, said: "With the values of the radical Victorian polymath and social reformer John Ruskin at its core, and with his legacy in the spotlight in the bicentenary year of his birth, we are proud that the often challenging themes explored through The John Ruskin Prize resonate so strongly with contemporary artists and designers across the nation."
Ruskin in Manchester
Supported by the Guild of St George and Manchester Metropolitan, Ruskin in Manchester will see cultural organisations across the city partnering to explore the world of Ruskin through exhibitions, talks and activities.
This includes 'Ruskin's Manchester: Devil's Darkness to Beacon City' (June 24 – August 23), an exhibition at the University's Special Collections Gallery, including books, drawings, paintings, studio pottery and textiles from its extensive collections and loans from Ruskin-related collections. The exhibition will trace Ruskin's relationship with Manchester from the smog he described as 'Devil's Darkness' to the city's response to him, and the continuing relevance of his work to Manchester.
Announcing the full programme of Ruskin in Manchester events earlier this month, Dr Dickinson said: "The relationship between Manchester and Ruskin is fascinating. Ruskin raged against the city for its pollution, dirty industrial environment and poor living conditions. Its reaction says a lot about Manchester, whose people and civic leaders listened and responded to Ruskin's ideas around art, craft, education, localism and sustainability as they sought to make the city a happier and healthier place to live. At the heart of this is a special relationship that can still be found in Manchester today."
The John Ruskin Prize 2019 shortlisted artists are:
Balal Aquil, Omid Asadi, Lucy Burscough, Tracey Bush, Duncan Cameron, Faye Claridge, Judy Clarkson, Wayne Clough, Connor Coulston, Sarah Craske, Smout Allen Design Research, Sarah Duncan, Lisa Earley, Kate Genever, Nigel Goldsmith, Evagelia Hagikalfa, Martin Hearne, Michelle Heron, Harriet Mena Hill, Marguerite Horner, Benedict Hughes, Juliette Losq, Pinkie Maclure, Farwa Moledina, Julie Moss, Fronc Ng, Kazuki Nishinaga, Shanti Panchal, Lucy Pass, Lee John Phillips, Hilary Powell, Mike S Redmond & Faye Coral Johnson, Gabrielle Roberts-Dalton, Conor Rogers, Katrin Spranger, Emilia Symis, Kathy Taylor, Danny Treacy, Chao Wang, Pip Woolf and Colin Yates.