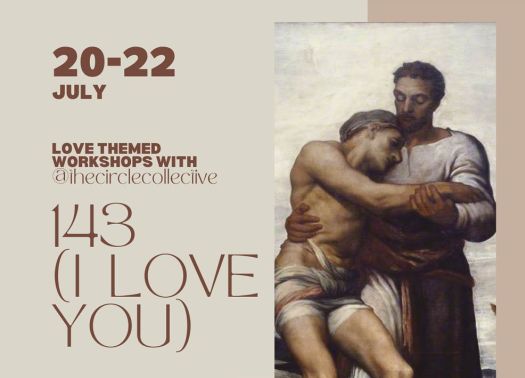 Students explore love's forms at Manchester Art Gallery
20 July 2022
A collective of second-year Manchester School of Art students has been commissioned by Manchester Art Gallery to run workshops for gallery users on the topic of love. Devised and run by Circle Collective, the project 143 (I Love You) involves three days of workshops in clay making, love letter writing and mapping, and will allow participants to explore new and varied forms of love that challenge 'amatonormativity', the idea that humans prosper with exclusively romantic love.
Circle Collective was formed during a Unit X project in Spring 2022 - Unit X is Manchester School of Art's vehicle for collaborative, interdisciplinary projects with external partners; in the project Unit X: Art Agents, students and staff worked with Manchester Art Gallery to develop proposals for socially engaged projects linked to the curatorial themes of British Art Show 9, a major touring survey of British Art which is currently visiting Manchester, involving all major art venues in the city. Circle Collective's proposal was chosen to be commissioned as part of the Art Agents programme, part of British Art Show 9 in Manchester.
Kate Day, Learning Manager for Adults and Young People at Manchester Art Gallery, says of the project: "Manchester Art Gallery is really excited to be working with Circle Collective. We loved their proposal, 143 (I Love You), which dismantles the idea of exclusively romantic love to build a space that reduces loneliness and embodies British Art Show 9's themes of 'healing', 'care' and 'togetherness'.
"The artists had clearly thought hard about contemporary life for them and their peers which came through in the authenticity of their proposal. At the gallery, we've been talking for a long time about what it means to really care for people as well as collections. This project enables Manchester Art Gallery to contribute to students' talent development by providing opportunities for them to work with creative professionals in the city whilst sharing more widely the perspectives and creative approaches that they bring."
"Unit X feels particularly dynamic because of the way it brings students together from across a range of disciplines. It's not always the easiest start to a project as the students negotiate new connections and groupings but the overarching Unit X ambition to bring together a breadth of skills is hugely rewarding to be a part of."
143 (I Love You) takes place on Wednesday 20th-Friday 22nd July at Manchester Art Gallery. Participation is free.