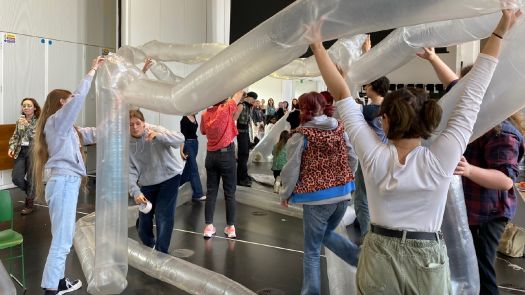 Foundation Diploma in Art and Design obtains fourth consecutive Ofsted 'Outstanding' grade
19 June 2023
Manchester Metropolitan the first university in the UK to gain an 'Outstanding' in every category, including Education Programmes for Young People and Apprenticeship Provision
The Foundation Diploma in Art and Design at Manchester School of Art has achieved a 4th consecutive 'Outstanding' grade as part of Ofsted's inspection of Manchester Met University.
The inspection covered all aspects of the student journey from initial marketing through to final employment. The key categories covered were Quality of Education, Personal Development, Leadership and Management, Behaviour and Attitudes, Education Programmes for Young people (Foundation Diploma in Art and Design) and Apprenticeships – with each category receiving the highest 'Outstanding' rating.
All staff, students, parents, and employers were consulted via the Ofsted survey independently, providing positive feedback on the characteristics of the programme. The programme team provided a wide range of resources for review, highlighting their approach to practice and pedagogy, in addition to key data and quality documents which evidenced a consistent drive not to simply improve, but to be a leading course within the sector.
Foundation diploma students develop their resilience and artistic style through projects that take them out of their comfort zone
Investigators found that students on the Foundation programme receive "highly effective career advice and guidance that prepares them well for the future", in addition to staff support that encourages students to "create high-quality portfolios and applications to a variety of prestigious higher education institutions and higher-level courses". The developmental style of the programme encourages students to take 'creative risks', and with a 50% progression rate onto undergraduate programmes at Manchester Met, the Foundation Diploma in Art and Design highlights the strong sense of support and community students gain from the programme.
Students spoke highly on the support they received including interactions with alumni and technical workshops to extend their skills base. Students described the university as a 'gender blank space' where they had the opportunity to develop their creative identities and express themselves individually.
"We are pleased to announce that the UAL Foundation Course in Art & Design has been awarded an Outstanding grade by Ofsted this year", said Programme Leader Jo Vickers. "This is an incredible achievement for students and staff in this current climate, and is the fourth time the course has been awarded this accolade, even surpassing previous inspection grading by raising the Outstanding grade to all 4 categories. The Foundation Course in the School of Art at Manchester Met has been a highly acclaimed course for many decades, appealing to creative students nationally and internationally. Its ambition, creativity and inclusive approach to learning is going from strength to strength each year as we continue to maintain the highest standards of arts education, preparing students for degree-level study, as well as other career paths."
As part of the previous Ofsted review in 2019, investigators highlighted the course tutors for their ability to "diligently prepare students for higher education" and aid students to develop "innovative and creative ideas in the design and production of their artwork".
Work by Foundation Art and Design students can be explored online as part of the annual 2023 Degree Show exhibition.