Sculptor's reflection on Ukrainian war unveiled at Liverpool Plinth
26 July 2023
New sculpture serves as a meditation on ongoing war in Ukraine
A new sculpture by a Manchester Met artist which reflects on the ongoing war in Ukraine has been unveiled as the sixth installation on the Liverpool Plinth.
Brigitte Jurack's Boy with k̶n̶i̶f̶e̶ ‌carnation was conceived as a meditation on fear and uncertainty and the lingering potential for violence. The knife in Brigitte's original sculpture has been replaced by a carnation, an emblematic flower in Ukrainian culture.
The bloom will be replaced throughout the year, with different colours representing feelings and emotions. Jurack's work is in situ on the Liverpool Plinth, which is in the public realm outside St Nicholas Church, for the next 12 months.
Jurack, who is Reader in Sculpture and International Lead for the Department of Art and Performance at the University's Manchester School of Art, said: "I'm honoured to see this sculpture on the Plinth. The contemporary hooded boy is on the threshold of adolescence, a time of turmoil, unpredictability and confusion."
"His pose also represents uncertainty – how will he remain on the path of peace in the light of external and internal conflict?"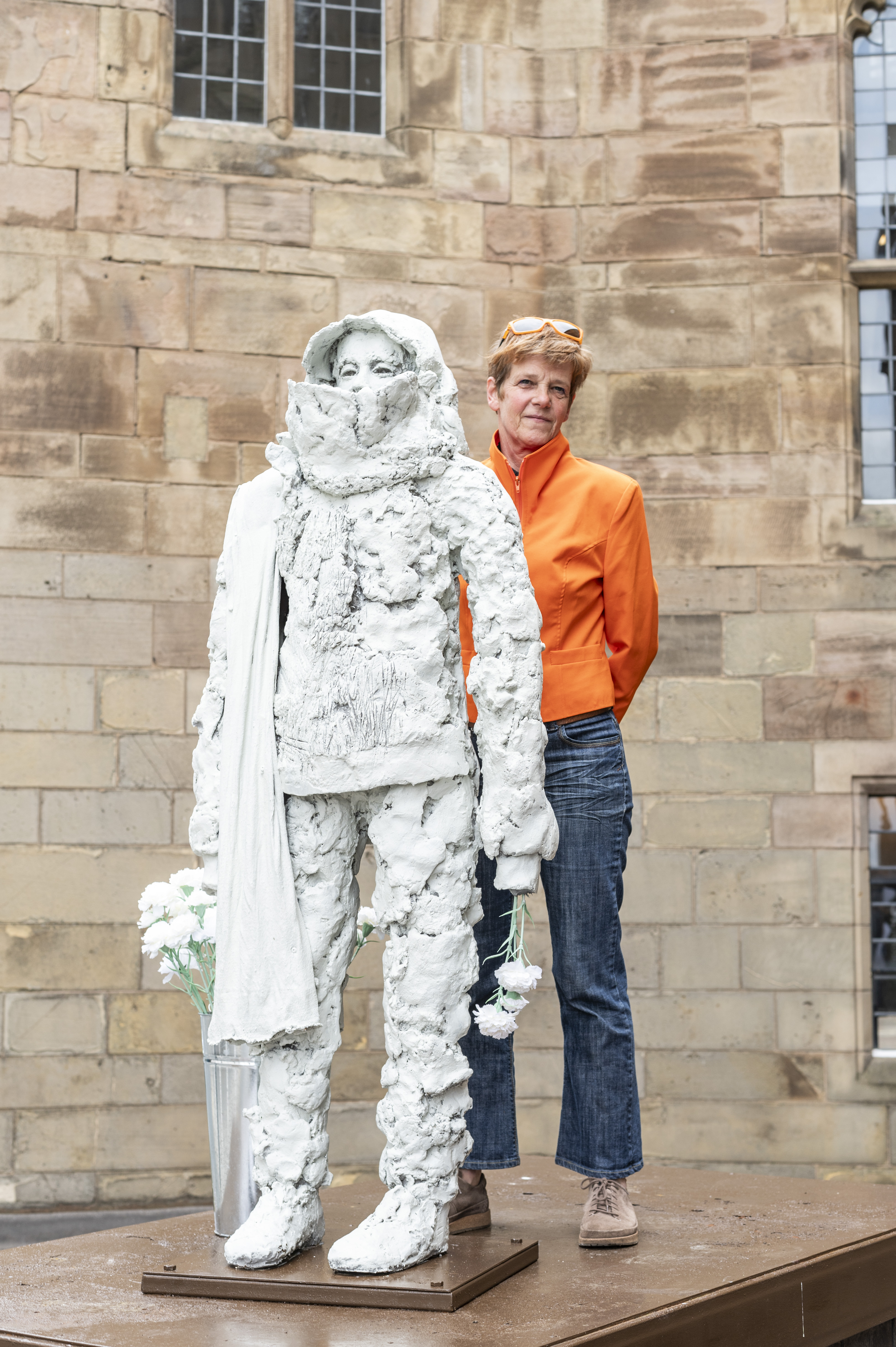 Image credit: Kat Hannon
In Ukrainian culture, different coloured carnations are highly symbolic with, for example, red carnations given to veterans on 8 May, the Day of Remembrance and Victory over Nazism in World War II; white are offered as a sign of pure love, and pink are gifted to mothers to celebrate undying love.
The Liverpool Plinth is a public art partnership between Liverpool BID Company, arts organisation dot-art and Liverpool Parish Church. Boy with k̶n̶i̶f̶e̶ ‌carnation is the latest sculpture to be unveiled on the Plinth, which was established in 2018 as the northern response to London's Trafalgar Square Fourth Plinth.
Lucy Byrne of dot-art said: "This is a powerful work that articulates the ability of art to raise public awareness and consciousness around conflict. It felt fitting when we saw the submissions that this meditation on violence and conflict would have such a prominent place within our city."
Bill Addy, CEO of Liverpool BID Company, said: "This year has been one where Liverpool has shown its solidarity with Ukraine, first hosting Eurovision on behalf of the country, and now with this opportunity to reflect on the conflict itself. Public art is something we passionately support at Liverpool BID as it does not just animate our public spaces, it has the power to force us to challenge ideas and allow us to raise the ideas of those who need to be heard."
The Rector of Liverpool, the Revd Canon Dr Crispin Pailing, added: "We are delighted to be welcoming this work to Liverpool Parish Church. It is both thought-provoking and a powerful commentary on the war in Ukraine."
Image credit: Kat Hannon
Brigitte Jurack has exhibited her work widely, including at solo shows at Williamson Art Gallery and IMMA, Dublin, as well as Manchester's Cornerhouse, Toyota Municipal Museum of Art and Contemporary Art Centre in Hong Kong.