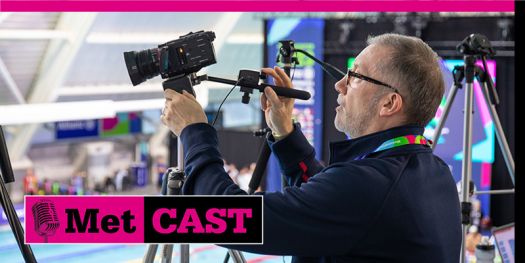 MetCast Podcast: On August's episode – making fashion more sustainable, Para Swimming World Championships and an 80-year-old graduate shares his inspiring story
15 August 2023
Listen to the latest episode of Manchester Met's podcast
In this month's episode, we take a look at fast fashion and clothing waste, as we hear from researchers at Manchester Met on new ideas for the fashion industry to make their products more sustainable.
We speak to our researchers at the Para Swimming World Championships, partnered by the Manchester Metropolitan University Institute of Sport, who are playing a vital role in the performance of the Great Britain Para swimming team and shaping the sport's classification system.
Finally, we sat down with fine art graduate Stan Harland from our Manchester School of Art who proved - at the age of 80 - that it's never too late to achieve your dreams.
What is MetCast? 
MetCast digs into the research, knowledge and expertise from across Manchester Metropolitan University – and how it is transforming the world around us.
From sport to sustainability, fashion to finances, hear from university experts, students, and partners who'll be discussing a range of topics, including the latest research from across Manchester Met.
Be sure to subscribe to us on your chosen podcast platform so you never miss an episode. Find us on Spotify, Apple Podcasts and Google Podcasts, or stream the latest episode above.
If you'd like to contact us – or feel you've got a story we should cover – please get in touch via press@mmu.ac.uk.
Episode Archive: Find previous episodes of MetCast here.