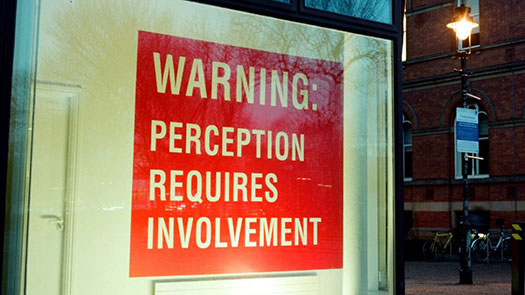 Thursday 8 December 2011

–

Wednesday 1 February 2012
Antoni Muntadas
Warning: Perception Requires Involvement
Pavement Gallery presents the piece WARNING: PERCEPTION REQUIRES INVOLVEMENT by the acclaimed artist Antoni Muntadas. The work is part of an on-going project 'On Translation', which has been shown internationally.
The highly visible platform that Pavement Gallery provides is particularly appropriate for this piece, which works as both an instruction and challenge to the viewer. The course of everyday urban life is accompanied by a mass of signs and signals, all of which seek to persuade, explain, cajole and influence the way in which we exist in the city. The Muntadas piece acts as a deliberate warning to the viewer, suggesting perhaps that we need to re-think our understanding of ordinary things.
Muntadas examines the possibilities and complications of language and communication in both art and life. With the piece exhibited in Pavement, the text is written large scale onto the surface of the city; a visible reminder that we should not take anything at face value.