John Walsh
MA
Programme Leader MA/MFA Graphic Design & Art Direction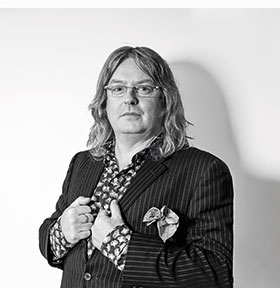 John Walsh is Programme Leader for the MA/MFA Graphic Design and Art Direction course here at Manchester School of Art.

He is a Designer, Art Director, Researcher, and Design Educator.

John led the third year of Graphic Design since it was inaugurated ten years ago, from where he continually delivers passionate world-class professional designers to creative domains across the planet.

This has been achieved by developing an innovative curriculum that is built on practical and strategic design thinking and doing. This entails a hands-on, roll-yer-sleeves-up, let's-see-what-happens-if-I-do-this approach. Empirical and heuristic activities are at its very core.

By encouraging and supporting a program of intensive research followed by systematic analysis, diverse and radical experimentation, focused prototyping which culminates in confident, finessed and appropriate outcomes, whatever the problem. He believes that Graphic Design theory and practice work should work hand in hand to create innovative, inspiring and engaging solutions.

Walsh studied Graphic Design in the early 1990s before attaining his MA in Creative Technology at the University of Salford. He set up his own design studio in Manchester in 2001 and has worked with a wide range of clients spanning art, fashion, music, and film cultures. Notable clients have included Tony Wilson at Factory Records, 808 State, mr. scruff, Flux Magazine, Tate Gallery, Band on the Wall, and Robert Redford. Initially, his practice revolved around 'Diamante' an experimental and limited edition Graphic art publication, the exposure and sales of this enabled him to set up his own letterpress studio, rescuing obsolete and abandoned tools and equipment from printers and universities across the UK, repurposing and reimagining them in creative ways. His design practice centres around identity and editorial design. So, type, image, grid, colour, composition, narrative, format; the fundamental tools of a Graphic Designer.

John's research and expertise encompass all activities emanating from Graphic Design Practice. Design process, Design thinking, Design doing, Design methodology with a particular focus on ancient Graphic Systems.

In addition to his role as a senior lecturer, John is also currently studying for a PhD here at Manchester School of Art.
Research
Exhibitions
Walsh, J., 2019. The Secret History of Magazine Design: Cover Version, Science and Industry Museum, Manchester, 11/10/2019.