Liz Wheeldon-Wyatt
Senior Lecturer
Graphic Design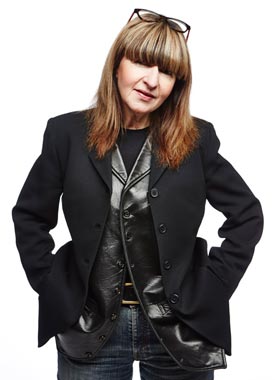 Liz Wheeldon-Wyatt is Programme Leader for BA (Hons) Graphic Design.

A former graduate herself, Liz has spent over 20 years in industry practising as a Graphic Designer. Ten years spent in London and ten in the USA. She has been the lucky recipient of a number of awards ranging from The Addy's both regionally and nationally, Philadelphia Gold's, Clio Awards, USA and D&AD Awards in the UK.

With her extensive industry background working, Liz is a proactive member of The D&AD North Committee and is actively involved in promoting and organising events, workshops, exhibitions and President Lectures for agencies and students around the Northwest. She is also a member of GDEN, the Graphic Designers Education Network.

Liz has been involved in a variety of research projects, 'Stepping Out' funded by The Design Skills Alliance which explored the connection from Design Education into Industry. Another ongoing research project, is PAIRINGS, an inter-disciplinary collaboration between Art, Craft and Design, which went on tour around the UK. Liz is currently working on a Pedagogic Research Project, 'Bridging the Gap' which is exploring the transition for students from Further Education to tertiary Education using Experiential Learning.

Liz holds a PGCE from Manchester Metropolitan University and is a member of the Higher Education Academy.
Projects
The Pairings project based at MMU, was set up to challenge boundaries and diffuse the categorisation of art, design and craft and foster an inter-disciplinary collaboration. Our collaboration in this exhibition represents a small number of encounters in a photographic studio and embodies the beginning of what we both hope will be many long fruitful future discoveries. Details…
Through the PAIRINGS project within the School of Art, I have formed a partnership with ceramist Helen Felcey and have started to explore the personalities of '2d' pattern/textile images and type, digitally rendered onto '3d' forms. My collaboration with Helen Felcey has been an adventure in its own right, taking me completely out of my comfort zone to a place where there was no brief, no client and no required outcome. Details…
OWT REPROCESS. Experimental Publication. Details…
Having spent many years finding the design solutions for someone else's problem, I am keen in my design research to find a way of exploring that which has no defined path or fixed abode. The openness of experimentation with no boundaries, I hope will lead to a new freedom of expression and unpredictable outcomes. Details…
Research
Exhibitions
Wheeldon-Wyatt, EM., 2015. Come & Worship', Manchester School of Art, 2015.
Wheeldon-Wyatt, L., 2012. Wheeldon-Wyatt.L., 2012, Pairings, MMU Special Collections, Otter Gallery Chichester, Fairfield Mill Cumbria., 2010 - 2012.
Artefacts
Wheeldon-Wyatt, L., 2016. 'RHS Flower Show', Art School Allotment, Tatton Park, Cheshire, 2013.
Wheeldon-Wyatt, L., 2016. 'RHS Flower Show', High Tea & Plates, Tatton Park, Cheshire, 2014.
Wheeldon-Wyatt, L., 2016. 'RHS Flower Show', Old-fashioned deckchairs, Tatton Park, Cheshire, 2015.
Journal Articles
Blakey, S., 2011. 'A Lull in the Conversation', Ceramic Review, Issue 249, Page 50.
Wheeldon-Wyatt, L., 2011. ''Pairings, Crossing Artistic Boundaries.' Cover Design for Ceramic Review.', The magazine of Ceramic Art & Craft, Issue 249..
Wheeldon-Wyatt, L., 2010. ''Ready or Not – graduation to industry.'', Shellsuit Zombie, Issue 1..
Wheeldon-Wyatt, L., 2009. ''The Wow Factor – for a job in Design – you have to show us your creativity'.', Article for New Design Magazine..
Conference Papers
Wheeldon-Wyatt, E., Aubrey, K., 2015. 'Bridging the Gap - Student Transition from FE to HE Education.'.
Other Outputs
Wheeldon-Wyatt, L., 2009. ''Stepping Out – Leading Design Professionals in Design Education.'', Paper for Looking Out Conference. The Higher Education Authority. ADM Subject Centre..
Wheeldon-Wyatt, L., 2008. ''Are you buying what we are selling?'', Paper at Advertising Colloquium, Liverpool John Moores University..