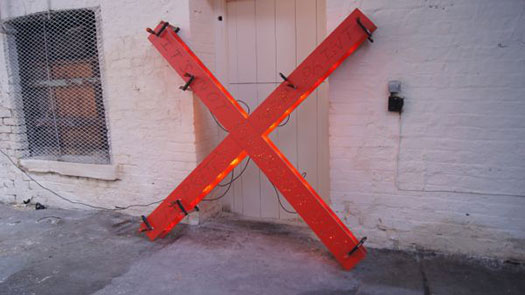 Monday 8 May
—

Friday 12 May 2017
Unit X Festival 2017
The Unit X Festival is a week of pop-up exhibitions showing the work of some of the best up and coming Artists, Designers, Filmmakers and Photographers emerging in the city.
These free exhibitions will be taking place across Manchester in venues including — Manchester Art Gallery, The Deaf Institute, Manchester Craft and Design Centre, Cass Arts, Soup Kitchen and Caustic Coastal. Scroll down to discover more about this exciting week of events.
Exhibitions & Events
8 May
The Unit X Festival begins with an exhibition at Manchester School of Art featuring the work from two live briefs run in collaboration with professional companies.
Manchester School of Art
5pm – 8pm
9 — 12 May
Inspired by Ceremony / NEO
Animators, Filmmakers and Photographers will show 30 very short films on the large digital screens. Unit X have responded to Phil Collins' Engels-inspired work for Manchester International Festival and an open brief from Bruntwood.
Bruntwood Office Space Neo
Charlotte St, M1 4ET
Private View 9 May 5–6pm
Public launch 6–8pm
Then open to the public Wed–Fri 8am–6pm
9 — 11 May
Isokon
Contemporary takes on the Isokon building – a centre for intellectual life in the 1930's and 40's. Created as an experiment in minimalist urban living its famous residents included influential Bauhaus émigrés, spies and Agatha Christie.
Manchester Craft and Design Centre
17 Oak St, M4 5JD
Preview on 9 May 5pm–8pm
Open Wed 10am–5pm & Thu 12noon–4.30pm
10 May
Identity
Unit X 3D Designers and Interior Designers have explored the theme of identity to create a range of individual objects, artwork and designs then set them within Manchester's quirkiest independent bookshop.
Chapter One Books
Chatsworth House, 19 Lever Street, M1 1BY
Preview 10 May 6pm–8pm
Open Thu 10am–6pm
10 — 12 May
Working with influential designer Malcolm Garrett, Unit X have explored the punk movement, rebellion, style and how punk concepts are interpreted and portrayed today.
Cass Art
Oldham Street, M1 1JG
Preview 10 May 5pm–6.30pm
Open Thu & Fri 10am–5pm
11 May
Creativity in Motion
Unit X Fashion Designers, Art Directors and Interactive Artists have been inspired to create artworks and films from the movement of creative people including dancers from the Northern Ballet School.
Deaf Institute
135 Grosvenor St, M1 7HE
6pm – 9pm
11 May
Festival Square
Manchester International Festival is the biggest festival of new work in the world. Festival Square is it's beating heart. Unit X design ideas to bring the square to life in collaboration with MIF, Ferrious, OH OK Ltd, Office for Crafted Architecture and Practice Architecture.
Plant
Redfern Building, Sadlers Yard, NOMA, M60 0AB
5.30pm – 7.30pm
11 May
Identical Lunch
Exhibition exploring adventures in food, eating, cultural creativity and the recent upsurge in food fetishism.
Grosvenor Gallery
5pm – 7pm
11 — 26 May
Iterate - Encrypt - Stock
18 exploratory publications from Unit X. Formed from starting points such as iterate, encrypt and stock, the exhibition will showcase promotional print forms and Kickstarter films for each publishing venture.
Soup Kitchen
31-33 Spear Street, M1 1DF
Preview 11 May 6pm–11pm Open 12 – 26 May 12noon–late
11 May
Narrative Encounters
The Pre-Raphaelites were a secret society of artists. Their paintings used imagery and symbolism to hide many more secrets. Manchester City Art Gallery curators have unlocked the hidden meanings for Unit X to creatively respond to.
Manchester City Art Gallery
Mosley St, M2 3JL
6pm – 8pm
11 May
Permeated, Perplexities, Perpetuated
Accidents Happen, Beauty and Place, are the three themes that have inspired works in this eclectic exhibition of over 100 Unit X Artists, Curators and Art Historians.
Caustic Coastal
Unit 2, Regents Trading Estate, Oldfield Road, M5 4DE
6pm – 9pm
11 May
Sign o'the times
Unit X Graphic Designers and Illustrators create responses to activate or provoke interest. Your opinion needs you!
Texture
67 Lever St, M1 1FL
6pm – 9pm
11 May
Small Steps Art Activism 1
An evening of music, workshops, art work and much more across three Norther Quarter venues raising money for the Sea Life Foundation and Rape Crisis.
Kosmonaut
10 Tariff St, M1 2FF
6pm – 10.30pm
11 May
Small Steps Art Activism 2
Twenty Twenty Two
20 Dale Street, M1 1EZ
6pm – 10.30pm
11 — 12 May
Small Steps Art Activism 3
Stage and Radio
43 Port Street, M1 2EQ
10.30pm – 3am
11 — 16 May
Textiles in Practice
Unit X Textile Designers create an exhibition of ideas around a theme.
Eighth Day Café
111 Oxford Rd, M1 7DU
Preview 11 May 5pm–7pm
Open Fri, Mon, Tue 9am–7pm, Sat 10am–5pm
12 — 14 May
An exploration into the role of artists in the redevelopment of urban spaces and the rebranding of post-industrial cityscapes.
Rogue Artists' Studios
66-72 Chapeltown Street, Piccadilly, M1 2WH
Preview 12 May 5–7pm
Open Sat & Sun 11am–5pm
12 May
MIAO and Rebel Tartan
An exhibition that compares and contrasts two ancient textiles techniques and practices, inspired by Miao embroidery and blue heart tartan.
Centre for Chinese Contemporary Arts
13 Thomas St, M4 1EU
5pm – 8pm