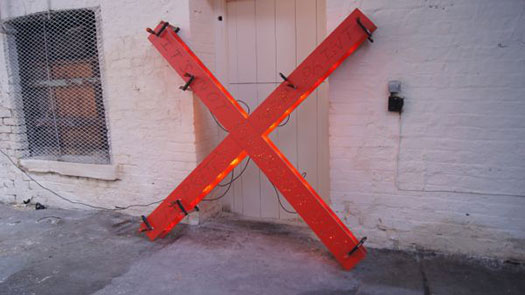 Tuesday 7 May
—

Friday 10 May 2019
X Festival 2019
X Festival is a week of pop-up exhibitions showing the work of some of the best up and coming artists, designers, filmmakers and photographers in the city.
The free exhibitions and events will be taking place across Manchester in venues including — Manchester Art Gallery, The Lowry Hotel, Arch 7, Terrace NQ, Fred Aldous, 81 King Street, Leaf, Islington Mill, Hatch, The Old Bank, Fairfield Social Club, The Deaf Institute, NEO, Manchester Craft and Design Centre, Soup Kitchen and the Centre for Chinese Contemporary Art.
Exhibitions & Events
7 — 10 May
X Festival Hub
The X Festival Hub is a central infomation point based in Manchester School of Art's heart, the Benzie Building. Visit us here to find out more information about the range of events being held as part of the festival. We will be holding daily walking tours that will begin at the hub so feel free to come down and join a group.
Benzie Building
Manchester School of Art, Boundary Street West, Manchester M15 6BR
Launch Event Tue 2pm–4pm Tue–Fri 10am–5pm
4 May
Haptic
As part of the 150th anniversary celebrations of the RNIB students have been running workshops with people with sight loss, talking to them about their experiences and responding with an array of very creative haptic textile work.
The Lowry Hotel
50 Dearmans Place, Salford M3 5LH
7–10pm. This is an all ticket event run by the RNIB.
7 May
1/X
Experience collaboration from different perspectives: organic and structured; clashes and conversations; one and the collective. Includes drawing, painting, plaster, digital, projection, performance, and participatory activities on the launch night
Islington Mill
1 James St, Salford M3 5HW
5pm – 10pm
7 — 9 May
Art Gallery Gift Shop
A 'pop-up gallery shop' created by Textiles in Practice students, informed by their research into the archives, shops and exhibitions of galleries and museums across Manchester.
Hatch
Oxford Road, Manchester M1 7AD
Tue 5.30–8pm, Wed 10–5pm, Thu 10–4pm
7 — 9 May
Art, Politics, Protest
Working with the People's History Museum, students are hosting an event to raise awareness of issues surrounding the Peterloo Massacre, whilst responding to the archives and collections of the museum.
Grosvenor Gallery
Grosvenor Building, Cavendish St, Manchester M15 6BR
Tue 5–8pm, Wed 12noon–6pm, Thu 12noon–6pm
7 May
Future Intelligence
A project aiming to forecast the future of design, this exhibition will explore how changes in the world around us will affect what consumers will be responding to in the coming years.
Benzie Building BZ303
Manchester School of Art, Boundary Street West, Manchester M15 6BR
6pm – 8pm
7 — 10 May
The Exquisite Corpse
A unique looped installation, embracing chance, absurdity and play, created by a cross-disciplinary cohort of animation, filmmaking and photography students responding to the theme of 'The Exquisite Corpse'.
NEO Building
Charlotte Street, Manchester M1 4ET
Tue 6pm–8pm, Wed–Fri 9pm-5pm
7 May
Time
Using projection to unite a variety of working methods, Graphic Design and Illustration with Animation students respond to the theme of time, both as a historical and a scientific concept.
The Deaf Institute
135 Grosvenor Street, Manchester M1 7HE
6pm – 10pm
7 May
Useful Culture
A day of activities at the gallery. This project is based around the history of the art gallery, the relationship with the early days of the art school and what the value and function of the art gallery is / could be.
Manchester Art Gallery
Mosley St, Manchester M2 3JL
10am – 5pm
8 May
Intangible Cultures
In collaboration with Donghua University, Fashion students will be exhibiting a collection of garments inspired by traditional Miao embroidery.
The Centre for Chinese Contemporary Art
13 Thomas St, Manchester M4 1EU
5pm – 7.30pm
8 May
Language, Material, Meaning / Zine and Exhibition
Focusing on the playful relationship between language, material and meaning, students have been producing zines that explore language, art and contemporary life.
Terrace NQ
43 Thomas St, Manchester M4 1NA
5.30pm – 8pm
8 — 9 May
Little Inventors
Led by Dominic Wilcox Design, the Little Inventors project will create innovative and surprising objects inspired by children's drawings of furniture.
Arch 7
Temperance Street, Manchester M12 6HR
Wed 5.30–9pm, Thu 10–5pm
8 — 9 May
MIF Festival Square
Themed around the experience of food and inspired by the MIF19 Programme, Unit X students from a range of disciplines bring their expertise together to create two spaces for the Festival's takeover of Albert Square this July, with a flexible approach to both corporate and public use.
Arch 7
Standard Practice Workshop, Temperance Street, Manchester M12 6HR
Wed 5.30–9pm, Thu 10–5pm
8 May
Rebel Tartan
A collection of garments created by Fashion students, taking inspiration from the Rebel Tartan Project's Bluehart tartan.
The Centre for Chinese Contemporary Art
13 Thomas St, Manchester M4 1EU
5pm – 7.30pm
8 May
Substance
20 groups of students respond to the title of a Joy Division or New Order song, by drawing from themes in the work in ways that resonate with their own practice.
Fairfield Social Club
Archway 6, Temperance Street, Manchester M12 6HR
5pm – 9pm
8 — 9 May
Theory in/as practice
Challenging the idea that theory is something separate from the students' practice as makers, this event is intended for both the theory-curious and the theory-addict.
Fred Aldous
Lower Basement, 37 Lever Street, Manchester. M1 1LW
Wed 9am–5.30pm, Thu 9am–5.30pm
8 — 9 May
Whitworth Threads
In collaboration with Whitworth Art Gallery, cross-disciplinary teams of students have designed and produced limited-edition craft pieces inspired by the gallery's mission to become a cultural and creative hub for the community.
Manchester Craft and Design Centre
17 Oak Street, Manchester M4 5JD
Wed 10am–5.30pm, Thu 10am–5.30pm and 6.30–8pm.
9 May
Developing Visual Narratives
An exhibition of artwork, illustration and animations made by the creative talent of the future. Working from the theme of anthropology, this collective of over 50 artists, designers, filmmakers and animators have created rich visual imagery to transport you through their universal stories. The event will include live acoustic music as part of the Leaf Café Sessions.
Leaf
113–115 Portland St, Manchester M1 6DW
6pm – 11pm
9 May — 8 Jun
Dragon's Den
An exhibition containing a number of artefacts created as part of a Dragons Den project, in which students were tasked with creating concepts to promote one of three themes; altruistic lifestyles, insect-based cuisine and introducing young people to opera.
Soup Kitchen
31-33 Spear St, Manchester M1 1DF
Thu 6pm–late. Every day after that 12noon until 1am.
9 May
Kilo
Edgelands and sustainability will be brought to the forefront in an exhibition by Fashion Art Direction students, making use of found objects to inform image construction.
The Old Bank
Hanover St, Manchester M4 4AH
6pm – 9pm
9 May
The Natural World: Utopias and Dystopias
Students explore ideas of utopia and dystopia for Skepta's DYSTOPIA987 project as part of Manchester International Festival.
81 King St
Manchester M2 4AH
5pm – 9pm