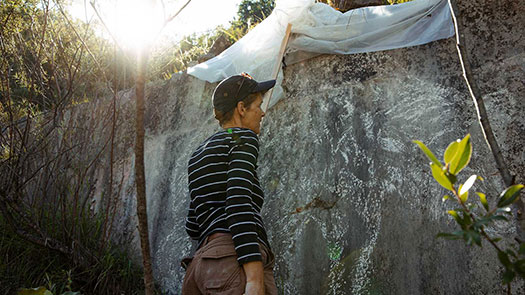 Talk #112
Brigitte Jurack
Tuesday 10 January 2023, 5pm
HOME
2 Tony Wilson Place
Manchester
M15 4FN
Book your free ticket on the HOME website.
A video recording of this talk will be available from 10 February.
Brigitte Jurack studied at the Kunstakademie Düsseldorf. She works in the UK where she co-founded the artists' collective Foreign Investment. She is a Reader and Head of Sculpture/Time-Based Arts at Manchester School of Art, Manchester Metropolitan University, where she is also the International Lead for the Department of Art and Performance. Jurack is based in the Liverpool City Region, having transformed a Victorian Bakery into the Alternator Studio and Project Space.
Jurack's work has been exhibited widely in exhibitions at FILET (London); IMMA (Dublin); Kunsthalle Düsseldorf and Bluecoat (Liverpool). She has held fellowships at the British School at Athens, ICI Redcar, EKWC Hertogenbosch, the Sanskriti Foundation, New Delhi. She published Irfaran, Travel and Work (2007), a book, which focussed on the artist as globetrotting worker in the twenty-first century. Her most recent publication and exhibition What's left behind (2021) concentrates on adaptability, wit, intelligence and play in the light of growing environmental pressures.
Curated by HOME. Produced by HOME, with Manchester School of Art, Manchester Metropolitan University.
Inage: Brigitte Jurack - Salzburg International Summer Academy of Fine Arts, photo: Anna Aicher