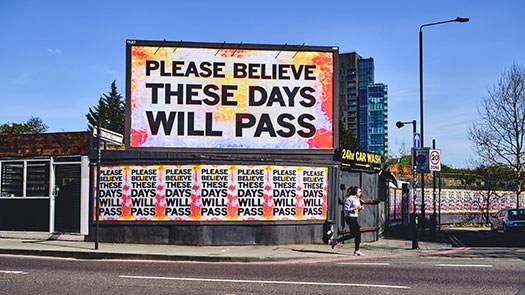 Talk #127
Mark Titchner
A video recording of this talk will be available from 26 October.
Mark Titchner's (b. 1973, Luton, UK) work involves an exploration of the tensions between the different belief systems that inform our society, be they religious, scientific or political. Focusing on an exploration of words and language, in recent years much of his production has been based in the public realm both in the UK and internationally. These public works have often been created from extended group activities, working particularly with young people and in mental health settings.
He was nominated for the Turner Prize in 2006, participated in the Venice Biennale in 2007 and was Artist in Residence at the Art Gallery of Ontario, Toronto in 2012. In 2018 he completed a major new permanent public work, 'Me, Here Now' which is installed at London Bridge Station. His work is held numerous Public Collections including Arts Council, Tate, British Council, Government Art Collection, South London Gallery, Manchester Art Gallery, Birmingham Museum and Art Gallery and Guildhall Art Gallery.
Solo exhibitions include 'It's the hope that keeps us here', OOF Gallery, London (2022), 'Some questions about us', Firstsite, Colchester (2019), 'Mark Titchner', CGP/Dilston Grove, London (2014), 'Please Believe These Days Will Pass', The Young gallery at The Art Gallery of Ontario, Canada (2012), 'Be true to your oblivion', New Art Gallery, Walsall (2011), The Age of Happiness, Hellenic American Union, Athens (2009) and 'Run Black River, Run', BALTIC, Gateshead, (2008). He lives and works in London.