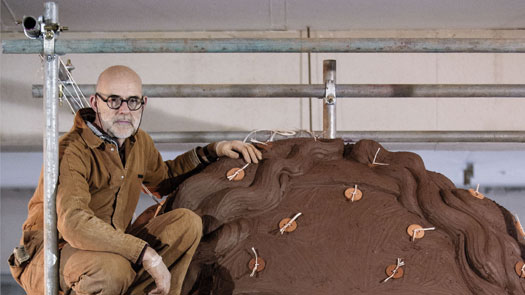 Wednesday 9 December 2015
Professor Stephen Dixon
RESONANCE: conflict and commemoration in the centenary of the Great War
5.30pm—6.30pm
This lecture will examine Professor Dixon's interests in the emotional resonance of historic artefacts and the mnemonic qualities of ceramics, through three current research projects:

Resonance, a touring exhibition developed in collaboration with the Staffordshire Great War Museum Consortium, as a response to their collections of First World War objects, documents and archives. Collectively, the works look at the ways in which the Great War affected the people of Staffordshire, examining themes of absence, loss and shared humanity, and considers how these themes resonate within the material objects found in the collections.

Resonate, an installation for the British Ceramics Biennial, which brings together monumental sculpture, sound and public participation to commemorate the 5,608 soldiers of the North Staffordshire Regiment killed in action in the First World War.

The Lost Boys, an outreach project examining the issue of underage soldiers in World War 1. The project engages young people as co-researchers, undertaking archival research in collaboration with the Staffordshire Great War Museums Consortium, the Staffordshire Regiment Museum and Staffordshire County Archives.
—
Part of the ASK (Art Seeks Knowledge) Open Lecture Series by Professors and visiting Professors at the Manchester School of Art.
All are welcome to these open talks, which offer a snapshot of the breadth and depth of some of our research and practice at the cutting edge of our disciplines.
Admission is free, but please book your ticket online.