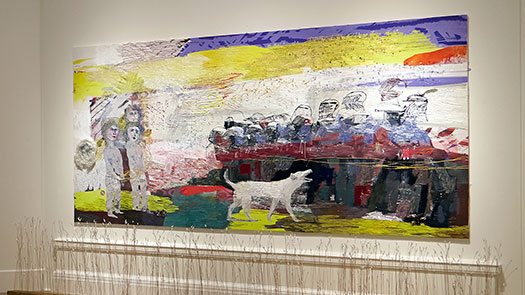 Wednesday 1 June 2016
Professor Alice Kettle
The Wandering Thread
5.30pm—6.30pm
The weaver Anni Albers described the metaphorical character of thread, which provides the means to communicate and make visible 'what had been brewing in our consciousness or sub-consciousness, in our awareness or in our dreams.' In this talk, Alice Kettle exposes a strong connection between her own practice and the mediations of Albers in which thread used in the context of stitch, literally figures both the subconscious and conscious mind through both the aesthetic of work, the content of its narratives and the physical essence of its production. However, Kettle posits a more dialectic extreme to the nature of thread; forever caught between the polarities of wakefulness and dreaming, the intimate and the epic, the exposed and the cloaked, the solitary and the collective. Using recent projects as a basis for this reading, Kettle points to the expanded material presence of thread and how our readings of it are critical to unlocking new and generative ways on how 'textile' and 'thread' can be both critiqued and understood.
Alice Kettle's textile work is held in collections internationally for example the Crafts Council London, the Whitworth Art Gallery and Manchester City Art Gallery, the Museo Internationale delle Arti Applicate Oggi, Turin, Museum of Decorative Art and Design, Riga, Shipley Museum and Art Gallery Gateshead, Ararat Art Gallery, Victoria, Australia, Belger Arts Centre, Kansas City USA. In 2015 she was the invited artist at the VAS:T Scottish Royal Society of Arts and held the inaugural exhibition for the contemporary art programme at the Queen's House National Maritime Museum, London in 2013.
Commissions include the National Library of Australia, Scottish High Court, Edinburgh, Gloucester and Winchester Cathedrals, Manchester University, Winchester Discovery Centre (Design Award 2010 Public Art and RIBA Award), and Lloyd's Register. She was on the Arts Council of Great Britain panel for Artists Taking the Lead Cultural Olympiad and commissioned for Cultural Olympiad Boat Project.
She has co-authored 'Machjne Stitch Perspectives' and 'Hand Stitch Perspectives' published by Bloomsbury and 'Making Stories' I-book with Electricimprint. Her interest in collaborative practice initiated the Pairings project and she co-edited 'Collaboration through Craft' also by Bloomsbury Academic. She is currently co-editing 'The Erotic Cloth' with Bloomsbury Academic and preparing for a solo show in Madeira.
—
Part of the ASK (Art Seeks Knowledge) Open Lecture Series by Professors and visiting Professors at the Manchester School of Art.
All are welcome to these open talks, which offer a snapshot of the breadth and depth of some of our research and practice at the cutting edge of our disciplines.
Admission is free, please book your ticket online.