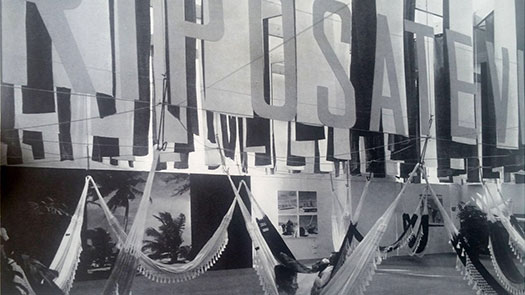 Wednesday 25 May 2016
Professor Raphael Fonseca (Colégio Pedro II, Brazil)
The line that welcomes the body: the hammock and Brazil
5.30pm—6.30pm
From an Eurocentric view, the hammock is often seen as the symbol of 'Brazilianness' - a monument for the constructed idea of 'tropical lazyness'. An indigenous object that was appropriated by the European populations during the centuries of the invasion of Latin America, the hammock has a history of its own. Raphael Fonseca will discuss this subject in the context of his curatorial project, When Time Presses, a prize-winner of the Marcantônio Vilaça Award (2015 edition). This exhibition, which featured works of thirteen Brazilian artists, reflected on the relation between leisure, rest, work and tiredness through artworks from the 1950's till present.

The curatorship of this project was based on the iconic work of the Brazilian architect Lucio Costa. Through a transhistorical perspective, Raphael will further discuss the scope of his curatorship by analysing the installation created by Costa with the use of fourteen hammocks in the Brazilian pavilion at the 13th Milan Architecture Triennial in 1964.
Raphael Fonseca is a an Art Critic, Art Historian and Curator based in Brazil and Europe. A Professor at Colégio Pedro II, he is recipient of the 2015 Marcantônio Vilaça Award. Fonseca has curated many international group and solo shows over the years, and writes regularly for the ArtNexus magazine.
His research is grounded in a transhistorical perspective of the relations between image, iconography and cultural/national identity. As a curator, Fonseca's interest lies in the opposition between the subjects of "labour" and "rest" in contemporary art and visual culture; the opposition between industrial and handcrafted materials; and the artistic propositions that invite the audience to physically participate in art installations and sculptural-makings.
—
Part of the ASK (Art Seeks Knowledge) Open Lecture Series by Professors and visiting Professors at the Manchester School of Art.
All are welcome to these open talks, which offer a snapshot of the breadth and depth of some of our research and practice at the cutting edge of our disciplines.
Admission is free, please book your ticket online.