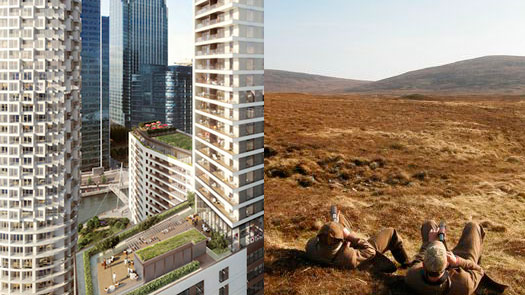 Wednesday 20 April 2016
Professor Tom Jefferies
Stealthy Cities: Exploring the limits of contemporary globally informed urban space in the UK
5.30pm—6.30pm
The current occupation density of the UK shows a 1600% variation across the country (between 14517 to 9 PPL/km2), yet there are continuities and connections across this range. These extremes reflect the deep penetration of the market into the UK housing landscape since policies from the 1980's initiated the removal of balancing mechanisms between the public and private sectors in the provision of domestic space. This lecture will identify new forms of urban space that have emerged during this period and consider how this density range is not a limit. It will consider and discuss the limits and possibilities of extreme forms of emerging urbanism in the early 21st century in the UK, cities that emerge within a highly regulated and controlled context and share stealthy and ambiguous aspects.
Architect and urban designer, Professor Tom Jefferies is Head of Manchester School of Architecture. His work, recognised through international prizewinning competitions, connects academic and professional activity to develop new relationships between architecture, culture, space, landscape, heritage and sustainability. He is interested in scale and the possibilities of trans-disciplinary collaboration that respects the importance if disciplinary identity.
Tom trained in Liverpool, lives in Manchester and has worked in London, Dordrecht, Birmingham and Nelson.
—
Part of the ASK (Art Seeks Knowledge) Open Lecture Series by Professors and visiting Professors at the Manchester School of Art.
All are welcome to these open talks, which offer a snapshot of the breadth and depth of some of our research and practice at the cutting edge of our disciplines.
Admission is free, please book your ticket online.