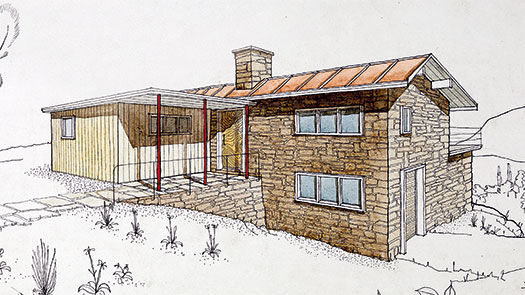 Monday 10 September 2018

—

Friday 5 April 2019
Drawing the Modern
The work of Gordon Hodkinson and post-war architectural education in Manchester
Monday - Friday 10.00 - 16.00
Saturday 12.00 - 16.00 (term time only)
Drawing the Modern draws on the archive of Gordon Hodkinson (1928 - 2018), a student of architecture at Manchester Municipal School of Art in the 1940s - 1950s. The exhibition explores post-war architectural education through a selection of Hodkinson's drawings including sketches, gouache rendered plans and construction details, as well as project briefs and lecture notes.
In Manchester in the mid twentieth century, there were two schools of architecture. One was based at Owens College (The University of Manchester) and the other at Manchester Municipal School of Art. At the Municipal School, under the direction of Head of Architecture Douglas Jones, modernism was central to teaching and design in architecture. It was in this modern school of architecture that Gordon Hodkinson studied between 1944 and 1951. He was sponsored by H.T. Seward of the architectural firm Cruickshank & Seward and went on to spend his whole career with the firm. He was involved with the Ferranti factory in Wythenshawe and the nearby headquarters for the Renold Chain Company. Gordon was also project architect for the Renold Building on the former UMIST campus, the city's best group of twentieth century buildings.
This is the first public exhibition of work from Hodkinson's archive and that of Cruikshank & Seward. It has been curated by Dr Richard Brook, Reader in Architecture at Manchester School of Architecture, Manchester Metropolitan University.
Closing Event: 4 April 2019 (6pm—8pm)