Alnoor Mitha
MA FRSA
Senior Research Fellow (Asian Cultures)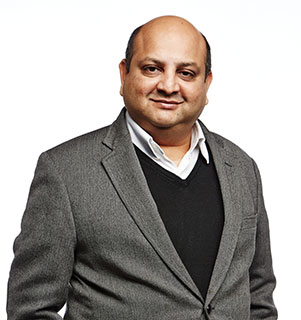 Alnoor is a Senior Research Fellow (Asian Cultures), Manchester School of Art, and the research Centre leader for Asian Cultures. He is the founding Artistic Director of the award winning, Asia Triennial Manchester (ATM) festival at Manchester School of Art, Manchester Metropolitan University. He is an adjunct Professor at Beaconhouse university, Lahore, Pakistan and Visiting Professor of Teesside University. He was a trustee for the Manchester Crafts & Design Centre. He is part of a team as steering committee member for the new Centre for the Race & Racism Studies at MMU. He has also been appointed to the prestigious, Peer Review College - UKRI AHRC.

Mitha is specialist in South Asian contemporary visual art with over 20 years research, teaching and leadership experience, his research intersects critical exchange between Manchester, Asia and its international global Diaspora. His research investigates into the role of the 21st century curator to evidence unheard or marginalised Asian voices and experiences through visual arts and cultural programming. This is achieved through a prism of cultural and visual narratives by local and international artists and cultural thinkers. He has curated several award winning regional, national and international exhibitions, events, and conferences that have had a huge impact on equality diversity and inclusion agenda, that relates to the decolonising the curricula whilst discovering new knowledge and understanding for the wider communities. This creative impact has also led to the production of scholarly publications bringing new artistic disciplines on the field. Moreover, he has built a strong archive on Asian cultures, with around 20 publications with existing artistic networks both nationally and internationally. Mitha has also been featured in the Guardian and the BBC.
Projects
In 2018, Mitha curated the Anish Kapoor exhibition at gallery F15, Moss, Norway (250K Co investigator). This research investigated Anish Kapoor's historical work in public collections and its relationship to the wider ecology of contemporary art, particularly to new Nordic audiences. Details…
As part of the REF 2014, Asia Triennial Manchester (ATM) was used as a case study with the impact of the research contributed during 2008 and 2011 (200K, PI). The ATM is the only Asian Arts Festival in Europe with a focus on new work. Details…
2014 the ATM theme was 'Conflict & Compassion' (100K, PI) an exhibition and scholarly publication - it underpinned curatorial practice to explore the paradox of antagonism and reconciliation in contemporary Asian art. How do artists respond to the provocation of 'compassion', in an era of global conflict? The exhibition was presented at the Imperial War Museum North. Details…
2018 - 'Who do you think you are?' (78K PI), The fourth edition of ATM18's central curatorial theme of 'Who do you think you are?', was a reframing of 'Where are you from?' – the ambiguous and impossible demand so often encountered by people of colour in a post-industrial, multi-cultural city in the UK. Each theme brings a strong narrative that responds to societal concerns. Details…
In 2016, Mitha was the lead curator for the Colombo art biennial, (CAB) investigating the artistic theme "Conceiving Space" where 73 artists were commissioned to present new works across the region, creating the first international 'South Asian Artistic Hub'. The curatorial concept explored space as subliminal and omnipresent, whilst creating a physical space open to artists to make innovative work. Details…
In 2017, in partnership with Manchester International Festival, Mitha curated Imagined Homeland. His research contributed to a new narrative around partition and brought eminent speakers to debate on this provocative subject. Details…
During 2019, Mitha successfully won an AHRC bid enabling him to participate in an international workshop, Istanbul Turkey. The workshop was organised in partnership between the Istanbul Development Agency (IDA) and the Arts and Humanities Research Council (AHRC), the workshop brought together experts from both UK and Turkey to explore how the Creative Industries play a critical role for growth and prosperity in Istanbul and Turkey. Details…
Founding Artistic Director of SHISHA (2001-2011) international agency for contemporary South Asian Crafts and Visual arts. Raised over 1 Million for the agency funded by Arts Council England as a National Portfolio organisation and Manchester City Council. Details…
2020, Mitha curated, The Sky's the Limit, it responded to the Mediations Biennial theme, "Events Horizon" which was held in seven cities across Poland. There were three main clusters to the event one of them being held in Warsaw, where Sky is the Limit was f featured. Details…
Research
Alnoor Mitha is a member of the Art and Performance Research Hub.
Exhibitions
Ali, L., 2023. Tampered Surface Six Artists from Pakistan : an Exhibition of Sculpture, Painting, Printmaking, Photography and Mixed Media.
Mitha, A., 2022. Where is Home, Whitworth art gallery, 12/8/2022 - 26/2/2023.
Mitha, A., 2021. EART - A MANIFESTO OF POSSIBILITIES - CURATED BY ALNOOR MITHA, Manchester International festival various public sites, 1/7/2021 - 18/7/2021.
Mitha, A., 2018. Asia Triennial Manchester festival (ATM18), Multiple venues across Greater Manchester.
Mitha, A., 2016. Conceiving Space - Colombo Art Biennale, Sri Lanka 2 - 20th December 2016, Multiple sites in Colombo, Sri Lanka, 2/12/2016.
Mitha, A., 2014. Conflict and Compassion, Imperial War Museum North, 1/10/2014.
Mitha, A., 2014. The Asia Triennial Manchester (ATM14) Conflict & Compassion, Imperial War Museum North, 27/9/2014 - 23/11/2014.
Mitha, A., 2011. Asia Triennial Manchester 11, Various including Chinese Arts Centre, Cornerhouse, Manchester Art Gallery, 1/10/2011.
Mitha, A., Perks, S., 2011. Everything is Happening at Once, Rashid Rana, Cornerhouse, 1/10/2011.
Mitha, A., 2008. Asia Triennial Manchester 08, Various including Manchester Art Gallery, Cornerhouse, Castlefield Art Gallery, 5/4/2008.
Books
Mitha, A., Sveinar, DA., 2018. 'Anish Kapoor PUNKT 0 - Gallery F 15'.
Mitha, A., Makhoul, B., 2016. 'Conflict and Compassion A Paradox of Difference in Contemporary Asian Art'.
Mitha, A., Kennedy, B., Wainwright, L., 2014. 'Triennial City Localising Asian Art', Cornerhouse.
Rana, R., Elliott, D., Perks, S., Mitha, A., 2012. 'Rashid Rana Everything is Happening at Once', Cornerhouse.
Organization, S., 2009. 'Asia Triennial Manchester'.
Nasar, H., Abbas, H., Dawood, A., Connah, R., 2007. 'Beyond the page contemporary art from Pakistan : an exhibition presented by Asia House, in partnership with Manchester Art Gallery and Shisha : [works in the exhibition], Hamra Abbas ... [et al.]'.
Holt, J., 2006. 'Mapping ArtSouthAsia A Visual and Cultural Dialogue Between Britain and South Asia'.
Organization, S., 2004. 'Handasah unity in pattern'.
Chuhan, J., Manby, J., 2002. 'A long way from home a painter's journey'.
Rangasamy, J., Organization, S., Mitha, A., 2002. 'ArtSouthAsia the first international programme of visual culture from Bangladesh, India, Pakistan and Sri Lanka 2002'.
Jain-Neubauer, J., 2001. 'Chandrika, Silver Ornaments of India'.
, 1993. 'A Critical Difference Contemporary Art from India : an Exhibition of Sculpture, Painting and Installations ...'.
Mitha, A., 1993. 'Kissing the Dust - Contemporary Artists working with Collections'.
Reports
Cockery, H., 2015. 'Asia Triennial Manchester 2014 - An evaluation of audience engagement and economic impact, March 2015', Asia Triennial Manchester.
England, ACO., 2000. 'Whose Heritage? The Impact of Cultural Diversity on Britain's Living Heritage'.