Simone Ridyard
Programme Leader, BA (Hons) Interior Design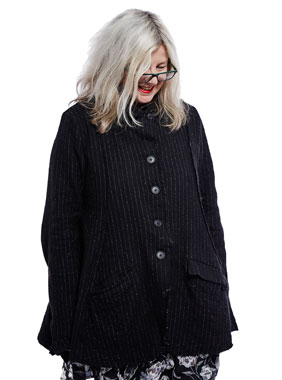 Simone studied architecture at Canterbury School of Art where the value of pencil, pen and watercolour in the communication of space and buildings became embedded in her work. Simone practiced as an architect, specialising in interior architecture for over 15 years. Practices she worked for include; Sheppard Robson, Austin-Smith:Lord and 3DReid.

Simone was appointed Senior Lecturer at Manchester School of Art on the BA (Hons) Interior Design course in 2011, where she is L5 year tutor. She is also Admissions Tutor for BA (Hons.) Interior Design. Simone sees her main responsibility as delivering core skills of interior design; special awareness, layout and planning strategy. Thereby, she complements the imaginative, expressive and conceptual ideas that students have developed in L4. Through longstanding professional connections, Simone has been able to facilitate strong links between Manchester School of Art Interior Design and the wider interior, architectural and construction industries.

During a teaching exchange at Temasek Polytechnic in Singapore in 2012, Simone was introduced to the global Urban Sketching community and set up an urban sketchers group in Manchester on her return.

She has since gained considerable International recognition within the Urban Sketching movement. Her research is concentrated around reportage and in-situ drawing. You May Look at a Building, Simoneís collaboration with the writer Phil Griffin, reporting on the redevelopment of St Peterís Square in Manchester, was shortlisted for the inaugural UWE / Moleskine Reportager Awards in 2015. Her book Archisketcher was published in summer 2015 by North Light in the US and Quarto in the UK.

Simone is a member of the Society of Architectural Illustration (MSAI) and Manchester Academy of Fine Arts (MAFA). She continues to develop her client portfolio of commissioned architectural visualisations. Recent clients include Virgin Atlantic Airways, Manchester International Festival and Marketing Manchester. Simone runs drawing workshops in UK and Europe. She has taught three and four day workshops at Tate Liverpool, The Herbert Reade Gallery Coventry and on location in Amsterdam.
Research
A selection of recent research outputs.
Exhibitions
Griffin, P., 2015. Commissioned exhibition for Didsbury Arts Festival, Croma, Didsbury, Manchester, 18/6/2015.
Ridyard, S., Griffin, P.G., 2015. UWE / Moleskine Reportager Award 2015 (shortlisted), UWE (University of Western England), Bower Campus, Bristol, May 2015.
Books
Griffin, P., 2016. 'Manchester Sketchbook', Mancunian Books.
Ridyard, S., 2015. 'Archisketcher', Apple Books UK.
Ridyard, S., 2015. 'Archisketcher Drawing Buildings, Cities and Landscapes', North Light Books.
Griffin, P., 2014. 'You May Look at a Building'.
Journal Articles
Bromwich, K., Ridyard, S., 2018. 'Sketch in the City: the artist capturing urban clutter in pictures', The Guardian and The Observer News Review.
Griffin, P., 2016. 'The second volume of the anthology series edited by Kazi Khaleed Ashraf "Locations 2: An Anthology of Architecture and Urbanism" published by ORO Editions, San Francisco and Bengal Foundation, Dhaka', Locations 2: An Anthology of Architecture and Urbanism, 2.
Presentations
Ridyard, SM., 2017. 'Urban Sketching: Drawing the City a presentation', 70 Oxford Road, Manchester.
Ridyard, SM., 2016. 'Urban Sketching: Mapping the City', National Football Museum.