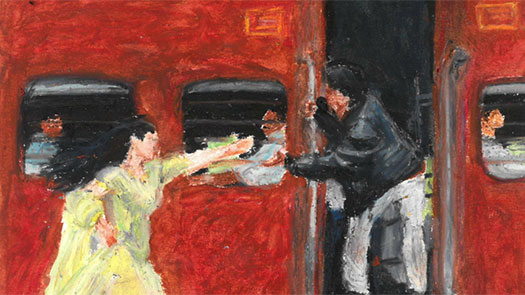 Fatima Atif
Fatima Atif completed the Foundation Diploma in Art & Design course in 2023.
Plans for next year?
I'm studying Illustration with Animation at the School of Art.
How has the Foundation Diploma influenced your work?
Studying the Foundation has encouraged me to consider the more conceptual aspects of creating art, something I didn't really consider before. Over the course of the year I've also learnt how to confidently develop a project and my appreciation of the contextual side of things has definitely grown. I've also had the opportunity to learn numerous new skills such as letterpress which has become a favourite of mine.
Any advice for new students on the Foundation Diploma?
Keep trying new things, even if you think you already know what you like!
What techniques or facilities have you used to create your work?
I mostly draw using fineliners, pencils, POSCA markers and occasionally oil pastels; I also really enjoy printing, especially using lino. This year I have used letterpress, bookbinding, etching, laser cut and the wood workshop. Letterpress and etching were my favourite, but I really enjoyed learning how to use all the different equipment in the wood workshop.
Can you share some highlights from your time at Manchester School of Art?
Having the best decorated row in the studio for Christmas was definitely a highlight, we made our own decorations as well as putting tinsel and lights everywhere – it was really fun. I also really enjoyed making my own blocks for letterpress in Hindi, Urdu, and Bangla, and getting to use the laser cutter and the wood workshop equipment.
I haven't come across a single member of staff that hasn't been helpful. Ben has been my tutor for the whole year and was really helpful in guiding the development of my work while still allowing me full agency over my decisions. The makers staff were always really welcoming and when I was making my own letterpress blocks they were all really helpful answering all my questions and helping me out.
I've grown up in Manchester so the city's influence on my practice has been constant, I have always enjoyed capturing the range of vibrant characters that populate the city and the architecture in town. Events like MIF and visiting different exhibitions at places like HOME and Manchester Art Gallery have exposed me to new artists and art styles encouraging me to consider my own practice from different viewpoints.