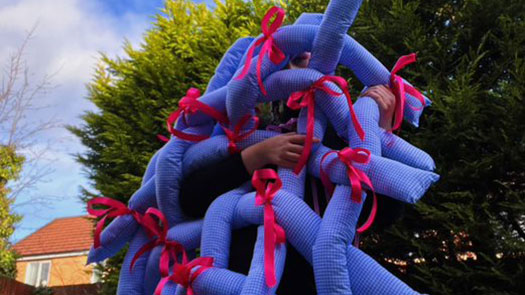 Sophie Robson
Sophie Robson completed the Foundation Diploma in Art & Design course in 2023.
Plans for next year?
I'll be studying Fashion Design: Knitwear at Central Saint Martins (UAL).
How has the Foundation Diploma influenced your work?
The foundation course has definitely influenced and changed my creative practice. I always knew I wanted to study fashion design but doing the foundation course has let me explore all areas and aspects of fashion. Experimenting on the course really helped me to decide knitwear was the specialty I wanted to choose and pursue in the future. The course also let me explore other creative practices which I hadn't really had a go at before.
Any advice for new students on the Foundation Diploma?
I would say to people who are considering doing the foundation diploma at Manchester School of art to definitely apply. It's one of the best decisions I have made, I've learnt so much and my skills and knowledge have really developed in such a short time. It's also a great way to experience what university life is like without fully committing to three/four years if you are unsure.
What techniques or facilities have you used to create your work?
The Make More store has been really useful throughout my time at Manchester School of Art, you can buy most materials for low prices. The Make More store also includes the sublimation printer which I used several times during projects. There's so many great facilities and workshops you get to explore on the course you can create anything you imagine.
Can you share some highlights from your time at Manchester School of Art?
I would say a highlight of mine studying at Manchester School of Art would be the end of year show/exhibition. I really enjoyed looking round and seeing what everyone had created throughout the course and also where everyone is going next year. All the tutors and staff have been so supportive and helpful throughout the year. In particular Amy was so helpful when I was applying to university through UCAS. Amy helped guide me on my digital and physical portfolio and prepared me for interviews, which definitely contributed to me getting into all 5 universities I applied for.
Manchester is such a great city to study in, you are constantly surrounded by inspiration and different cultures. There's always somewhere new to visit or something to photograph in the busy city, it never gets boring.