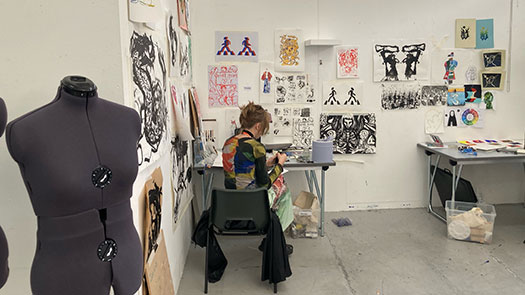 International Foundation
in Art and Design
The INTO International Foundation in Art and Design is an accredited course for overseas students that combines creative practice and English study skills to get you fully prepared for Year 1 of an Undergraduate Degree at Manchester School of Art.
Based within a studio space in the historic Grosvenor Building, you will spend the majority of your time working on creative projects that reflect your skills and interests. This includes subjects such as textiles, fashion, art, painting, sculpture, product design, illustration and graphic design. As you work and create in one of the largest Art Schools in the UK, you will have the opportunity to experience the wide range of facilities available including bookbinding, laser-cutting, daylight photography studio, screen-print and wood workshops.
This course has been designed to give you skills and knowledge to develop your own independent creative practice. This includes practical drawing classes that looks at life, mark-making, observational drawing on location and scale-drawing, and a series of Art and Design History lectures which will broaden your understanding of the creative sectors.
Part of your time will also be focused on practicing and perfecting your English Language and Study Skills at the INTO Study Centre. This is a 10 minute walk away from the School of Art and has a range of excellent facilities for both studying and socialising.
At the end of the course, direct progression onto a range of degree programmes at Manchester School of Art is available to those who meet the required academic standard.
Special Features
—

Manchester School of Art is part of Manchester Metropolitan University and you will have the support and resources of one of the largest universities in the UK.

—

The INTO International Foundation has its own studio space within the heart of the School of Art. This is your space to work, create and collaborate with other students from around the world.

—

Manchester School of Art is one of the largest and oldest Art Schools in the UK and is home to a wide range of workshops and studio spaces. We also have our own gallery, café and rooftop garden.

—

During the course, you will have opportunity to meet with academic tutors from across the School of Art and direct progression to a range of courses is available to those who meet the required academic standard.

—

Study skills: practice and perfect your language and study skills at the INTO Centre which is a short walk from the School of Art.

—

Your tutors: you will be taught by a range of supportive tutors who are all active practitioners.

—

Each June our graduating International Foundation students exhibit their work at the School of Art's annual Degree Show. This high profile event features the work of approximately 1000 students from across the School of Art and welcomes over 6000 visitors each year.
Course Content
Core Modules
Exploring Visual Language
The unit introduces basic art and design principles of 2D and 3D material, including:
specialist vocabulary and discussing work appropriately
theory of research
developing and maintaining sketchbooks and journals
museum and gallery visits
Developing Specialist Pathways
This unit will introduce a range of different potential pathways to reflect your skills and interests, which will lead to the eventual choice of your degree subject. Subjects include:
textiles and fashion
graphics and illustration
fine art painting
sculpture
interior and 3D design
English for Academic Purposes and Study Skills
The module introduces reading techniques for academic study and the structure and function of academic writing. You will cover:
English writing skills
academic discussions
working in groups and presenting ideas
time management
research and lecture notes
Final Major Project
For this unit, you will choose the subject matter for your major creative project, which will be developed over an extended period of 10 weeks. You will:
carry out associated reflection and research
develop themes and direction of creative piece with guidance from tutors
take part in group seminars and presentations
For information on entry requirements, fees and applications, please visit the INTO website.
Staff
Samantha Donnelly
Programme Manager

—



Paul Cordwell
Tutor


—



Hannah Kirkbride
Tutor


—