Graphic Design and Art Direction
MA
/
MFA
Graphic Design and Art Direction
MA – 1 year
(
full-time
)
, 2 or 3 years
(
part-time
)
MFA – 2 years
(
full-time
)
, 4 or 5 years
(
part-time
)
The MA/MFA in Graphic Design & Art Direction programme is designed for creative practitioners who wish to advance their knowledge, skills and specialism within the field of visual communication.
Each student will develop a practice-led investigation within this broader context, actively constructing a bespoke body of design knowledge which combines theory, practice, research, entrepreneurship and innovation from a wide range of creative activities.
They will be taught to question and expand their creative thinking and generic design process by developing their analytical skills; engaging in critical dialogues; work independently, collaboratively and interdisciplinary; experimenting in a range of directions before delivering professional and innovative outcomes to defined audiences with confidence. All creative activities are supported by strategic thinking, robust methodologies and informed by practice-led research.
This programme aims to develop a deeper understanding and fuel a personal obsession with the visual communication of ideas, continually asking: What is possible within the visual realm of text and image?
Features
—

While studying towards a particular qualification at MA/MFA level, students experience their subject in the broader context of contemporary design practice.

—

Dedicated spaces for the postgraduate community have been developed to enable the postgraduate community to flourish. These spaces, for thinking and practice, are located centrally within the School of Art, allowing easy access to an extensive range of workshops where the combination of traditional and state of the art equipment opens up a world of exciting possibilities.

—

You will be taught by research active staff who are part of the Manchester School of Art Research Centre and experts in their field

—

The University library has outstanding Art and Design holdings, including a special collection of artist's books and ephemera.
Course Content
Year 1
(

MA Full-Time

)

The MA in Graphic Design and Art Direction is composed of five units, totalling 180 credits.
Option Units
(Subject to Change)
Design Thinking
This unit introduces an applied understanding of how design can be used as an iterative process for creative problem solving. It will enable you to understand how to apply design thinking processes to your specialist area through understanding users, challenging assumptions, redefining problems and creating innovative solutions to prototype and test. The unit will also provide a broad introduction to research methodologies, strategic research planning and research design. A range of design thinking tools will be introduced and explored before you undertake an in-depth project that provides opportunities for experimentation leading to innovative solutions.
Design Practice 1: Graphic Behaviours
The first part of this unit is intended to acclimatise you to the challenges of MA level research and practice, enabling you to identify and describe a clear direction for your postgraduate design study. The second part involves developing your individual design proposals and establishing the context for Design Practice 2. Through the use of projects, you will examine a range of graphic behaviours in relation to a defined 'host' project. Practice-led research focusing on analysis, experimentation and delivery of project solutions, underpinned with ongoing self-evaluation.
Message / Audience / Context
This unit is concerned with the development and production of a body of work realising your individual creative ambition within the fields of graphic design and art direction and illustration. The work will expand on the research and development undertaken during the graphic behaviours units. You will be encouraged to collaborate with peers, external partners and virtual communities and expose your work to critical appraisal. You will prototype, finesse and resolve projects which deliver strategic messages to defined audiences.
Synthesis Project: Graphic Design & Art Direction
The synthesis final MA unit will support you to develop, resolve and present a significant body of work, located within the field of graphic design and art direction. The unit accommodates opportunities for collaborative, industry based or international learning experiences, and enables you to undertake and submit work developed within professional placements and/or live projects
The unit synthesises specialist design practice which you will have developed throughout the programme. The unit accommodates the opportunity to present your work in progress and to engage in interdisciplinary critiques to test ideas, gain feedback and support the development of your final body of work.
The content of your practice is negotiated with specialist staff and you will manage your learning via the development of a synthesis project proposal. The unit features a flexible assessment submission process which combines written and practical elements, the weighting of which being responsive and appropriate to your individual future ambitions, be they professionally or academically focussed.
Culture and Context
This unit offers focussed opportunity for you to extend and enhance your practice by including working in a wider art and design research community. The study of the cultural and critical contexts of art and design practice is vital to any student of the creative disciplines, this unit will develop your abilities to contextualise your practice through one of a series of themes addressing contemporary issue in art and design.
In previous years, themes have included contested territories, health and wellbeing, negotiated study, space and context, digital future and writing research and funding proposals. Theme options may vary each year.
Year 2
(

MFA Full-Time

)

The MFA Graphic Design and Art Direction continues with the following two units totalling 120 credits.
Professional Practice
This unit is centred on the development of your specialist practice to enhance professional capabilities and career development. You will research suitable partners and agencies to inform a final significant body of work aligned to your chosen professional practice context. Throughout the unit you will be asked to approach, propose, negotiate and progress a plan for the establishment of a professional practice. You will be supported in the continuation of your practice via specialist practice based tutorial and professional practice support.
Realisation and Publication
This is the final unit towards an MFA award in which you are required to realise a significant body of work for a public audience. This unit builds upon practice initiated and developed in earlier units and as such will be used to realise and disseminate an ambitious and autonomous final outcome.
The aims of this unit are for you as an individual or as part of a collaborative team to realise an ambitious and significant body of work and to generate a professional launch pad suitable for its public presentation. Your final presentation of work will include the production of any necessary dissemination, intellectual property and publicity materials.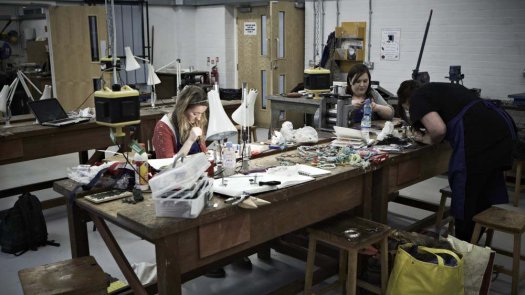 Resources
We have developed a dedicated postgraduate area occupying an entire floor of the main School of Art building, offering an exciting space to be, both intellectually and practically. The centre is located in the Chatham Tower with studios, design laboratories, seminar rooms and extensive workshops that form the nucleus of this vibrant, cross-disciplinary learning environment.
Find out more about Manchester School of Art's facilities.
Student Work
Visit our online MA Show galleries to see examples of recent work by our postgraduate students.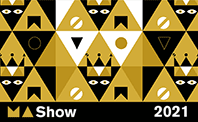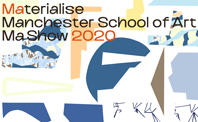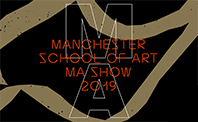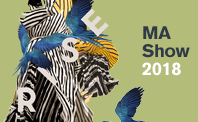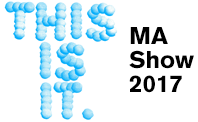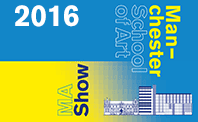 Graduates
We cultivate highly motivated, independent and creative thinkers who can transfer their skills into the creative marketplace, as entrepreneurial innovators, freelance practitioners and innovative team players. Past graduates predominantly achieve graduate-level positions or practise as sole traders, design studio artists, exhibiting artists, museum curators, archivists, researchers, academics, community practitioners, specialist technicians and filmmakers at national and international levels.
Making an Application
Entry Requirements
A minimum of 2:2 Honours degree is required. Equivalent EU/international qualifications are also accepted. Applicants who do not meet these criteria will be considered on a case-by-case basis. Other professional qualifications or degree disciplines will be considered on merit and/or with relevant professional experience.
We require the submission of a digital portfolio to evidence design practice and research, and may request an interview as part of the application process.
Overseas applicants will require IELTS with an overall score of 6.5 with no less than 5.5 in any category, or an equivalent accepted English qualification.
How to Apply
Please apply online using the link below. In your personal statement please include a web address to an online portfolio containing a selection of images or videos of your past work. You should also explain how you would like to develop your practice during the course.
Fees
2023 Entry
UK and Channel Island Students
Fees for this course have yet to be confirmed and will be updated shortly.
EU and Non-EU International Students
Fees for this course have yet to be confirmed and will be updated shortly.
Additional Information
A masters qualification typically comprises 180 credits, a PGDip 120 credits, a PGCert 60 credits, and an MFA 300 credits. Tuition fees will remain the same for each year of study provided the course is completed in the normal timeframe (no repeat years or breaks in study).
Eligible alumni receive a 20% discount on their postgraduate tuition fees. Find out more about our Alumni Loyalty Discount.
Course Leader
John Walsh
Programme Leader MA/MFA Graphic Design & Art Direction


—