Kirsteen Aubrey
SFHEA
Education Lead: Design Department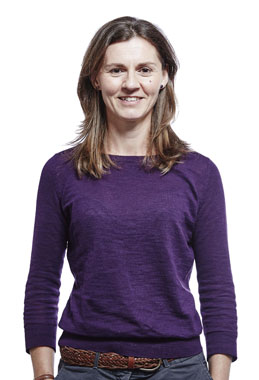 Kirsteen is the Education Lead for the Design Department within the Faculty of Arts and Humanities. She also teaches on the Product Design and Craft Programme, with a particular focus on glass, pedagogy and employability.

Having joined MMU in 2004, her roles have included glass specialist tutor, Programme Leader and Principal Lecturer for Employment, Employability and Enterprise. She is a Fellow of HEA and in her third year of studying Doctorate of Education. She is currently External Examiner at University of Sunderland.

Kirsteen's research into collaborative engagement across diverse disciplines has supported her pedagogic vision and an exploration of the innovative agency of glass, her specialism. Collaborating across craft, design, science and poetry , the outcomes include writing, photographs, textiles, installation and projections using glass. Her current collaboration with an Atmospheric scientist explores crystal transformations, and is being presented at Bluedot, a festival celebrating science, art, music and space at Jodrell Bank (July 2018).

Her recent cross-Institutional collaboration unites science, poetry and glass to explore the UK coastline. Researching and documenting our relationship with the coast through sand, language and form, the objectives include raising public awareness of the coast, exploring the sustainable and creative potential of coastal materials, and developing interactive experiences for the public.

Kirsteen's research features in New Technologies in Glass (Cutler 2012) and papers include European Conference on Design4Health (2015), CELT (2015), CARPE (2013), Group for Learning in Art and Design (2015, 2018). She also co-designed and co-facilitated a Crafts Council commissioned workshop with Prof Alice Kettle (Textiles) and Lesley Raven (Fashion Art Direction)that explored 'Innovation through Collaboration' in 2016.
Research
Kirsteen Aubrey is a member of:
A selection of recent research outputs.
Exhibitions
Aubrey, K., 2019. Undisciplinarity, Teaching and Learning in Action, 1/2019.
Aubrey, K., 2015. Visual Arts Scotland, 2015, Royal Scottish Gallery,Edinburgh, 7/2/2015.
Webb, J., 2011. Pairings, MMU Special Collections, Otter Gallery Chichester, Fairfield Mill, Cumbria, September 2010 -.
Aubrey, K., 2010. The Glass Journey, Special Collections, Manchester Metropolitan University, Aug 15th- Dec 16th 2011.
Aubrey, K., 2008. Reflective Stories, Holden Gallery, Manchester School of Art, Nov 08- Dec 08.
Aubrey, K., Artefact members, 2006. Artefact, Chatham Gallery, Manchester Metropolitan University, Sep 06.
Aubrey, K., R. Wilson, 2006. Inspired by Nature, Waterside Arts Centre, Manchester, Jan 06- Mar 06.
Aubrey, K., 2005. Showcase, Paperchase, Manchester, Oct 05.
Aubrey, K., Cohesion members, 2004. Urban Interiors, Cohesion London, Oct 04.
Aubrey, K., 2003. Blast, The Gallery, Cork Street, London, Mar 03.
Aubrey, K., 2003. Density and Light, Hannah Peschar Sculpture Garden, May 03- Oct 03.
Aubrey, K., 2003. London Art Fair, London Art Fair, Mar 03.
Aubrey, K., 2003. The State I'm in, Northumbria University, Feb 03.
Aubrey, K., 2002. Diversity, National Glass Centre, Sunderland, May 02.
Aubrey, K., 2001. Pathways, Mezzanine Gallery, Jun 01- Sep 01.
Aubrey, K., 2001. Sunderland Glass Connections, National Glass Centre, Sunderland, Nov 01- Jan 02.
Aubrey, K., 2000. Glass Exhibition, Lednicke-Rovne, Slovakia, Jul 00.
Aubrey, K., 2000. Public Arts Laboratory/ LDI, Museum of Science and Industry, Manchester, Feb 00.
Aubrey, K., 2000. Spring Open, National Glass Centre, Mar 00.
Artefacts
Ian, S., Prof Richard, VN., Aubrey, K., 2020. 'Sensing the coast: exploring permanence, physicality and perspective', Atelier d'arts Film Fest (European Film Festival for Fine Crafts) and Real to Reel, the UK Film Festival of Crafts,.
Kettle, A., 2016. 'The Dog Loukanikos and the Cat's Cradle'', Textile work, Collect with Contemporary Applied Arts, Saatchi Gallery London, VAS:t, Scottish Royal Society of Arts, invited artist, Here and Now, Circus performance Alice Kettle, Circus and CAA Gallery, London, 2015, 2015 and 2016.
Presentations
McFadyen, J., 2012. 'Creative collaborations across multiple disciplines and their educational impact.', 2nd Annual International Conference on Visual and Performing Arts, Athens, Greece, 6-9 June 2011, in Not yet published.
Aubrey, K., 2000. 'Glass', Lednicke-Rovne Symposium, Lednicke-Rovne, Slovakia, Jul 2000.