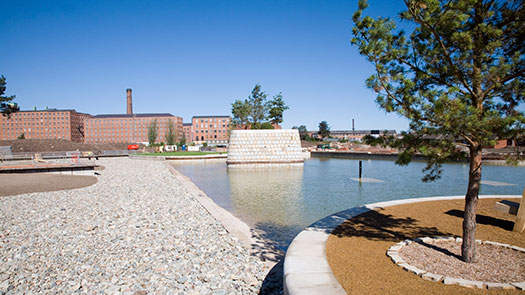 Wednesday 29 March 2017
Paul Morris: Hydro-Cities
Master of Landscape Architecture Open Lectures 2017
5.30pm—7.30pm
Hydro-Cities: Water in the Urban Environment
Paul Morris, Civic Engineers, Manchester
Civic Engineers are unusual in the world of engineering in putting placemaking and healthy cities at the heart of their work and practice culture. They have worked extensively with landscape architects and other professions to rethink conventional solutions to the design of streets, spaces and infrastructure.
Paul Morris is a Director at Civic Engineers and has worked for 15 years as a civil engineer. Paul has worked on a number of nationally acclaimed projects such as New Islington Millennium Village, Brighton New Road, Park Lane Poynton, the Climate Innovation District in Leeds, and the recently published TfL SuDS Design Guidance.
This lecture will look at how the management of water should be a key consideration in the design of our urban environment, mitigating the impacts of climate change and urbanisation, and positively contributing to our streets, squares and parks. Topics that will be covered include flood risk mitigation, green infrastructure, SuDS and biodiversity.
Part of the Master of Landscape Architecture Open Lecture Series.
Catering kindly sponsored by Ground Control.