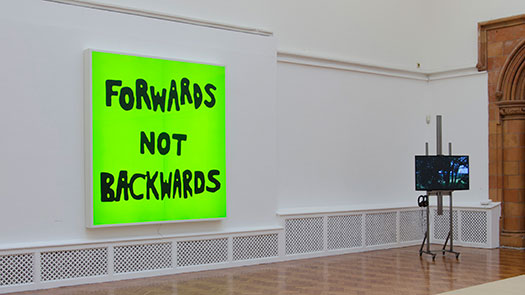 Thursday 15 March 2018
Pause...Break...Talk
5.30pm—7pm
Holly Corfield Carr (Poet and Writer)
Steven Gartside (Curator, The Holden Gallery)
Sophie Williamson (Curator, Camden Arts Centre)
Taking examples from art, literature and everyday life, the three speakers explore the pauses, gaps and breaks that occur in the process of communication. The creative glitches that appear as we look at images, objects, ideas and things.
Free admission.
Typos, topos: From the cinema to the cave, Holly Corfield Carr will be navigating typos in the work of writers writing in the dark.
Steven Gartside will use Break in Transmission as a starting point to talk about the nature of the fragment and notions of the incomplete work of art.
Sophie J Williamson will discuss her current research around disjuncture, translatese and the untranslatable in visual language and poetics.
_________
Holly Corfield Carr is a poet based in Bristol and Cambridge where she is completing a PhD on site-specific writing practices in caves, quarries and poets' 'root houses'. She received an Eric Gregory Award from the Society of Authors in 2012 and the Frieze Writer's Prize in 2015.
hollycorfieldcarr.co.uk

Steven Gartside is a Research Fellow at Manchester School of Art, Curator of the Holden Gallery and Course Leader for the MA/MFA Contemporary Curating programme.

Sophie Williamson is the Programme Curator: Exhibitions at Camden Arts Centre, London. From 2009 – 2013, she was part of the founding team of Raven Row, initially as Gallery Manager and later as Exhibitions Organiser, helping establish it as one of London's most critically acclaimed spaces. In 2016, Sophie completed a research residency at Bisagra, Lima, as part of Gasworks' International Curatorial Fellowships Programme.