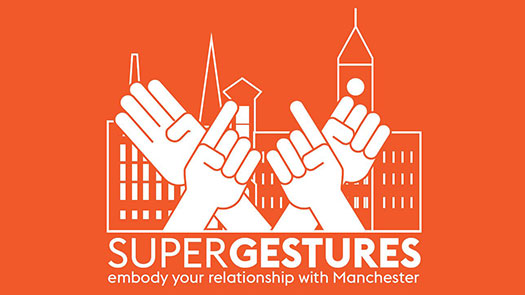 Saturday 13 January

—

Friday 2 February 2018
SUPER GESTURES
Embody your relationship with Manchester
Workshops:
Manchester Central Library - Saturday 13 January, 12.30pm-4.30pm
Z-Arts - Saturday 27 January, 12.30pm-4.30pm
Manchester School of Architecture, Friday 2 February, 10am-2pm
Your city is changing fast. We invite you to join one of a series of short workshops in January 2018 to explore the part you can play in these changes. You will use wearable technology (technology that you wear on your body) to sense your movements and gestures as you move around the streets of Manchester. In participating, you will be co-creating audio and digital content for an outdoor event and public exhibition together with artist Ling Tan in a project commissioned by City Verve.
We will be asking you to consider your relationship to the city, to technology, to your visions for the future, and we will join together in inventing a language of SUPERGESTURES that embodies our collective contributions to the future of Manchester.
SUPERGESTURES suggests powerful gestures created by individuals on their own, as well as the massive gesture that many people can create at the same time. What SUPERGESTURES will empower you to take action in your city?