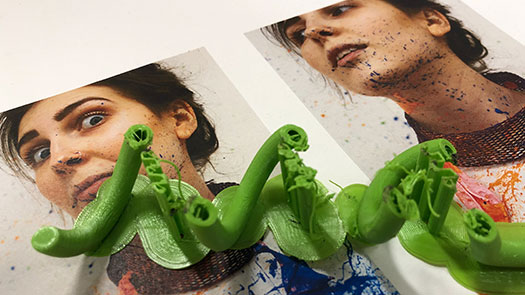 Tuesday 12

—

Friday 22 February 2019
Fashion | Form | Fabricate
Fashion, Form and Fabricate is a second year Textiles in Practice project that encourages investigation into issues faced by contemporary society through which questioning the established norm whilst probing into the now and embracing the new.
Designing for a character of their choice, students were tasked to create an experimental body of work that centers around their individual perceptions of what a collar, cravat or collaret may entail and that responds to the context and specific characteristics that are unique to their chosen character.
Additionally, students were asked to consider how the 3D printing process along with other more established textile making processes could be brought together through exploration.
This project was designed as part of the learning process that supports creativity and the evolution of design as it responds to the context within which it operates. It was also designed to explore the current interest in design for people, future needs, and design revolutions within the current educational system.
The FFF exhibition presents work-in-progress from each of the Textiles in Practice students taking part.
The FFF exhibition takes place in the Benzie Vertical Gallery and runs from Tuesday 12th until Friday 22rd February 2019.
The FFF preview evening is at 5pm Monday 11th February 2019 with a live performance at 5.30pm.