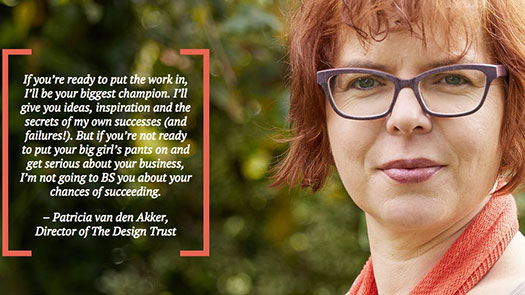 Wednesday 3 April 2019
Dream It – Do It!
Make your Creative Business Dreams A Reality With Patricia Van Den Akker
5pm—8.30pm
Do you want to work for yourself as a creative but don't know how to get started? How to stand out from the crowd? How to make a living?
Do you find it hard to know what your real talents are, to find and approach your ideal clients who would love to pay you, and how to promote yourself to the right people?
This workshop with Design Guru Patricia Van Den Akker will help you discover the answers to these questions and more!
If you already have your own creative business, or are just dreaming about one, Patricia van den Akker will help you define your targets and give you clear help on how to achieve them.
Patricia will help you to unpick what is your business dream, by questioning what is and what is not working for you - and help you set realistic, achievable goals.
Patricia van den Akker is Director of the Design Trust, with 25+ years' experience of working with 1,000s of creative businesses – from recent graduates to startups, from universities to support organisations, from trade shows to large brands. Patricia is renowned for her unique combination of practical insights, Big Picture design thinking, inspiring questions and creative solutions.
During her career Patricia has worked with many creatives, individual business advisers and experts, cultural and educational organisations and trade shows. She loves collaborating with like-minded partners who share her passion for transforming creatives into successful creative entrepreneurs.
Our workshop will consist of two hours of practical workshop time with Patricia, with plenty of opportunity for q+a, then a social networking event (with wine!) to meet fellow creatives and the mentor team at Marketplace Studios to carry on the conversations.
Please note this workshop takes place at Marketplace Studios, 18-19 Marketplace, Stockport SK1 1EU
Cost: £25